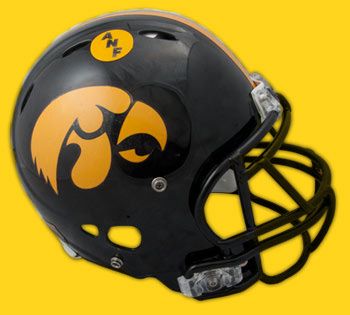 ANF: America Needs Farmers
ANF, short for America Needs Farmers, is a testament to coach Hayden Fry's commitment to Hawkeyes players, fans, and all of Iowa to showcase the importance and strength of farmers, even during the hardships of the Farm Crisis of the 1980s. ANF was, and is, a program to recognize the importance of farmers in Iowa and across America.
ANF Then
The success of Iowa farmers has been hard-fought with generations of work, sweat and sacrifice. Today's family farmers who make a living from the land have survived many challenges, including the Farm Crisis of the 1980s, which collapsed commodity and land prices, bankrupting thousands of Iowa farmers. Populations shifted from rural communities to larger cities as farm families lost everything. According to Emmanuel Melicher, a senior economist for the U.S. Federal Reserve, more than one-third of America's commercial farmers were in grave financial trouble. Before it hit, Iowa was home to 121,000 family farms. Nearly 20,000 went under, ending generations of farm legacy for many family farms. Nationally, the Farm Crisis claimed nearly 235,000 family farms.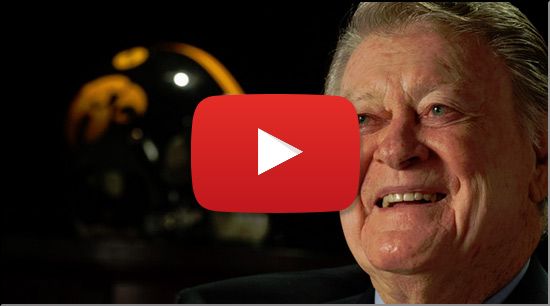 Hayden Fry, the head football coach at the University of Iowa at that time, knew the Farm Crisis touched many of his players and most of the fans. He was rebuilding the Hawkeye football legacy and wanted to show the nation that the strength of his team could also be measured in their character. Never one to accept defeat, Fry quietly went to work on a game plan to raise awareness of farmers who were struggling.
In 1985, the Hawkeye football team was rated the top team in the country for several weeks during that season, won the Big Ten championship and, as such, advanced to the 1986 Rose Bowl as the league's representative.
When Fry's squad traveled to Ohio State on November 2, something new was noticed on their game-day helmet: a simple yellow circle, 2 ½ inches wide, with the letters "A-N-F" positioned immediately above the Tigerhawk on the right side of the headgear. It stood for "America Needs Farmers." In that moment, and through the many games, many players and many wins that followed, it remains a testament to the men and women who proudly give their all to provide the nation's diverse food supply.
Fry, who received an honorary Iowa Farm Bureau membership that year, said, "The thing I'm most proud of here at Iowa is putting the ANF on our headgear."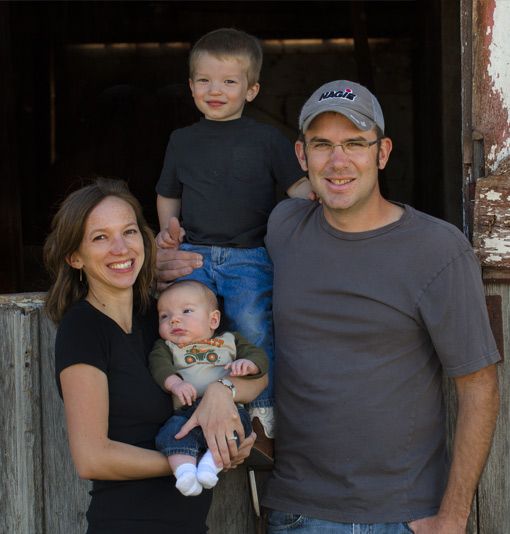 ANF Now
Today, less than five percent of Iowans make a living from the land. There may be fewer Iowa farmers, but they are more diversified, innovative and efficient, and have weathered new challenges to the way they grow our food and energy. Their job to grow safe, wholesome food has never been more important.
Consider this: By 2050, our growing global population will require 100 percent more food (from 2005 levels). Because there is only a finite amount of productive land, we will need about 70 percent of this food to come from efficiency-improving technology used by farmers.
Iowa is a leading producer of the U.S. food supply and is home to more than a third of the nation's largest food manufacturers and processors. Iowa's agricultural legacy of embracing progress, which has helped lead the nation in corn, ethanol, egg, and hog production, is critical to meeting this growing global demand.
Challenges abound for farmers in meeting these growing expectations of global food production; it doesn't always mesh with the demands of consumers, who are now two to three generations removed from farming. Increasingly, farmers find roadblocks to meeting demand by a growing group of activists and political mandates that slow or eliminate progress. The late Norman Borlaug, the Father of the Green Revolution whose lifetime of work saved a billion people from starvation, said embracing farming technology will not just feed a growing world, it will save the environment. He said those who put roadblocks in front of progress will cause the world to pay the price:
"If we grow our food and fiber on the land best suited to farming with the technology that we have and what's coming, including proper use of genetic engineering and biotechnology, we will leave untouched vast tracts of land, with all of their plant and animal diversity."
Farming's impact goes well beyond food and energy. Much of America's innovation in renewable energy, medicine, building materials and diagnostic tools come from the by-products grown and raised by farmers. That list includes biodegradable plastics, batteries, adhesives, textiles, cleansers, heart valves, artificial skin; many more and the list is growing! Opportunities are endless to leverage our agricultural assets to feed a growing world population and help create jobs and new products while preserving our natural resources.
The Iowa Hawkeyes and Iowa Farm Bureau are proud to recognize the ANF logo as a testament to the few, the proud, the Farm Strong families of Iowa; the men and women who go the extra mile to not only grow safe, wholesome food, but to protect the land and the legacy of rural Iowa and the American farmer.