Rural Vitality Articles
Iowa Farm Bureau members may subscribe for free email news on rural vitality, including stories about rural economic, business, and community development, seminars and other assistance for rural entrepreneurs, and more. Subscribe here!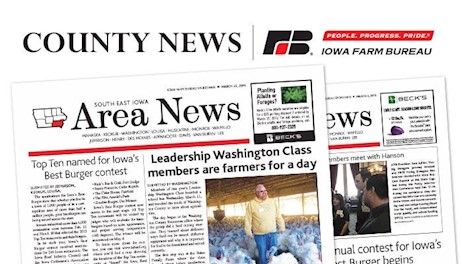 Perdue, former governor of Georgia, has a farm background, has worked as a veterinarian and has a reputation as a trade advocate.
Iowa Farm Bureau's Renew Rural Iowa will hold a free business success seminar on Jan. 31 in Burlington
The Iowa Farm Bureau Feder­ation's (IFBF) Legacy Planning initiative was launched last year as a grassroots-based effort to help develop a strategic plan for the organization that will be set to launch beginning in 2018.
Corn, soybeans, pigs, and ethanol; if you live in Iowa, you probably know that our state leads the nation in producing these (and other) farm commodities. But you might not realize that Iowa is quickly becoming a nationally-recognized leader in churning out another important product: rural entrepreneurs.
The Iowa Farm Bureau Fed­eration (IFBF) received several honors last week during the 2017 American Farm Bureau Federation's (AFBF) annual convention in Phoenix, including the prestigious Pinnacle Award, the highest level of recognition presented to a state Farm Bureau.
To an outside observer, there doesn't seem to be many reasons for optimism these days in American agriculture.
The term "sustainability" is all the rage in food marketing today. Sustainability reports are front and center on every grocery and restaurant chain website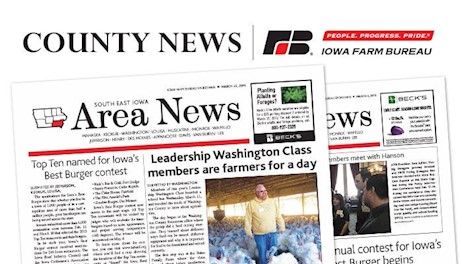 Iowa's rural entrepreneurship environment, paced by the Iowa Farm Bureau's Renew Rural Iowa program, is gaining a strong reputation nationwide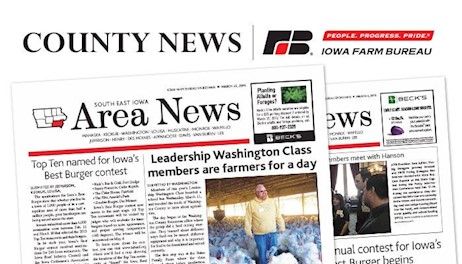 By working together and presenting a unified voice to lawmakers, regulators and others, Farm Bureau members from all over the United States can make real progress on many key issues
American Farm Bureau's inaugural Agricultural Investment Summit featured a handful of Iowa startups and tip of the cap to Renew Rural Iowa, a ten-year-old Iowa Farm Bureau program that has mentored 3,000-plus Iowans and has had more than a $125 million economic impact on rural Iowa.