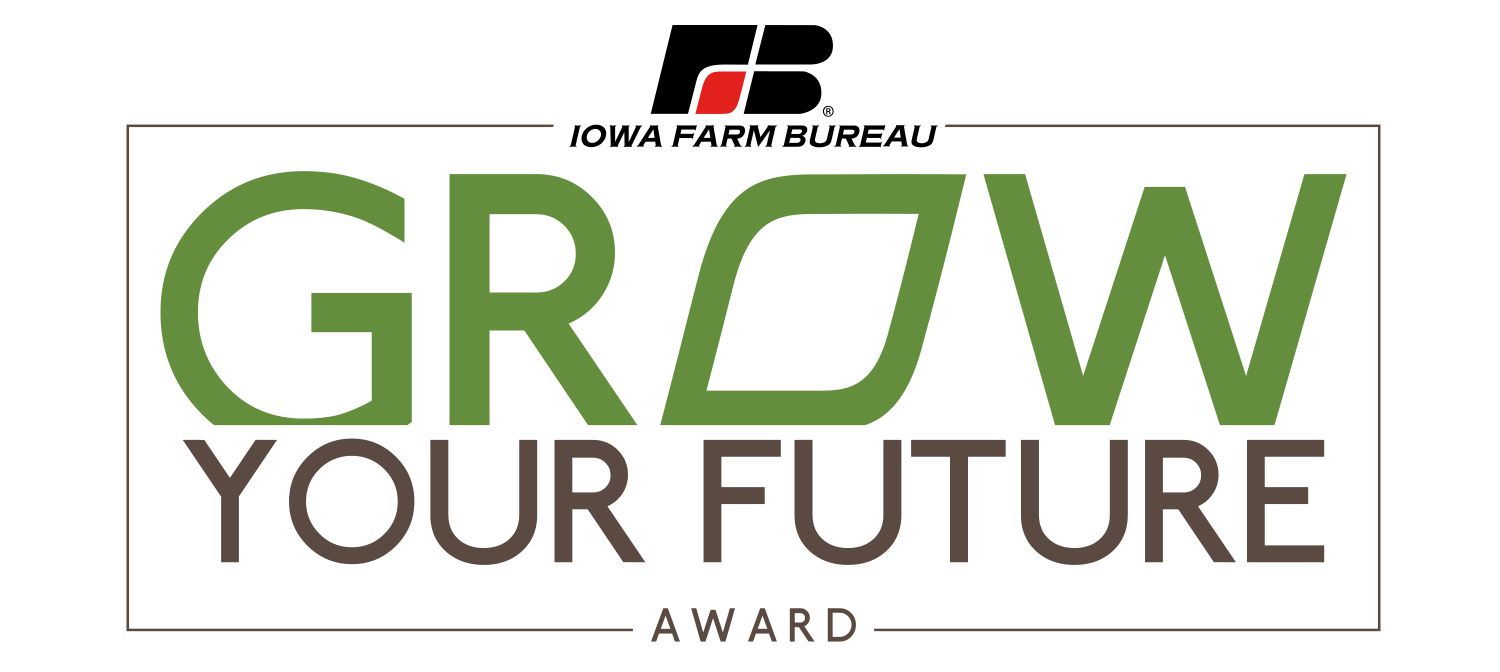 Apply today for the Iowa Farm Bureau Grow Your Future Award!
---
Are you a young Iowa entrepreneur with an innovative agricultural-related business?
Apply for Iowa Farm Bureau's Grow Your Future Award for a chance to win a cash prize up to $7,500!
---
Congratulations to the 2023 winners!
First Place - Reconnected Farms
Second Place - Mud Ridge Ranch
Third Place - H8R Acres LLC
---
Cash Prizes
1st Place: $7,500
2nd Place: $5,000
3rd Place: $2,500
Eligibility
---
- The applicant must have an existing ag-related for-profit business.
- The business must be new to this generation of farmers/created by the young entrepreneur applicant – not inherited from, or started in partnership with, a previous generation.
- The ideal candidate(s) is an individual(s) already involved in agriculture.
- Eligible agricultural fields include, but are not limited to, the sale of food and agricultural products, niche ag production, agritourism, or ag services. Ag technology businesses (e.g. software or app development) are excluded from this competition but are welcome to apply for the separate Farm Bureau Ag Innovation Challenge.
- The applicant must be a member, in good standing, of his or her county Farm Bureau (in Iowa).  Or applicant can join their local county Farm Bureau to become eligible to participate in the Grow Your Future Award.
- The applicant must be between the ages or 18 and 35 and shall not have reached his or her 36th birthday by January 28, 2023. If any business partner is 36 years or older, only those under 36 years old can participate in the application.
- Previous applicants are eligible to apply again unless they, or their business, was a prize winner in a previous year. 
- Not eligible to compete are: current members of the IFBF Young Farmer Advisory Committee; current members of the AFBF Young Farmer & Rancher Committee; previous Grow Your Future winners or AFBF Rural Entrepreneurship Challenge/Ag Innovation Challenge competitors; IFBF directors, officers, employees or immediate family members of such individuals.
Timeline
---
- Applications are due by September 1, 2022  
- Judges will select up to ten finalists.
-Online voting for finalists will take place from December 5-11, 2022. Voting will be open to the public.
-The finalists from the online voting will be announced by December 31, 2022.
-Top 3 finalist pitch-off will take place at 2023 Young Farmer Conference, January 27-28 in Des Moines, Iowa. (Pitch-off coaching for finalists will take place in early January 2023.)
- Winners will be selected on Saturday, January 28, 2023.
---
PAST WINNERS:
2023 WINNERS:
Reconnected Farms - $7,500 winner

Mud Ridge Ranch - $5,000 winner

H8R Acres LLC - $2,500 winner
2022 WINNERS:
Beringer Family Farm Beef - $7,500 winner

Holland Flower Farm - $5,000 winner

Hungry Canyon - $2,500 winner
2021 WINNERS:
Iowa Cover Crop - $7,500 winner

Over the Moon Farm & Flowers - $5,000 winner

Farm Story Meats - $2,500 winner
2020 WINNERS:
Gym-N-Eat Crickets LLC, Shelby Smith - $7,500 winner

New Day Dairy Bed & Breakfast, Lynn Bolin - $5,000 winner

McGreal Family Farms, Jake McGreal & Lara Mangialardi - $2,500 winner