Young farmers talk conservation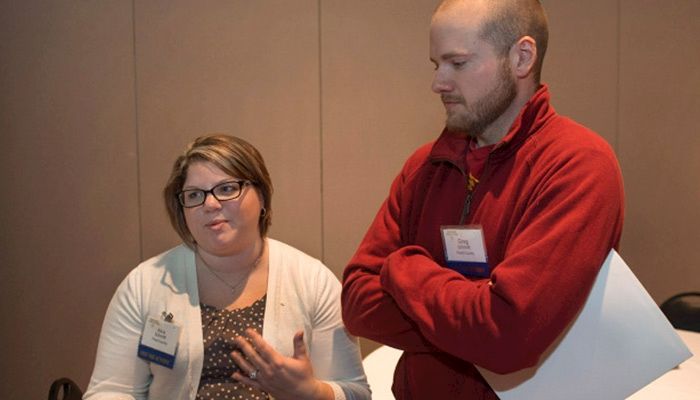 Caption: Alicia Schmitt discusses conservation practices she and husband Greg have brought to their family's farm.

More than 500 young Iowans, the largest attendance on record, gathered in Des Moines recently for the 2015 Young Farmer Conference, organized by Iowa Farm Bureau's Young Farmer Advisory Committee.

With the meeting just a few miles away from Water Works Park, a lot of the conversation in the hallways centered on the Des Moines Water Works' threat to sue three Iowa counties upstream for high nitrate levels in the Raccoon River.

In reality, it's young farmers who will be impacted the most by the lawsuit, as the baby boomers retire and the millennials accept the future challenge of producing safe, healthy food while protecting the environment.

And as young farmers will tell you, they're already taking steps to conserve the land, water and wildlife across the state.

Young farmers today are more educated than ever before. They've come back to the farm ready to apply their college degrees in engineering, agronomy and environmental studies.

They're comfortable with ever-changing technology and readily embrace it to continuously improve their farms. And frankly, young farmers don't want to do things the way their parents' have always done things on the farm.

But I'll let the young farmers tell you themselves what they're doing to protect water quality. At the conference, I talked to several young farmers and asked them to explain what conservation practices they've adopted on their farms. Here's what they said:

James and Megan Holz, both 28, cattle farmers from Greene County. The Holtzes live in the Raccoon River Watershed, but so far, their home county isn't named in the Des Moines Water Works lawsuit.

The Holtzes have adopted strip-till (or minimal tillage) practices, and they planted several acres of cover crops last fall to help protect fields from soil erosion in the winter. James also sells cover crop seed as a side business. In addition, they planted grass buffer strips around waterways to control storm water runoff.

"I know what we do, we do it well," Megan said. "The day (the lawsuit) came out, we stayed up and talked for hours because that's our future. We are very concerned about protecting the environment and always looking for ways we can improve. It's this kind of stuff that keeps us up at night, just thinking about how an unknown outside influence could change our entire future. It's scary."

Greg and Alicia Schmitt, both 26, hog farmers from Floyd County. The Schmitts custom-feed hogs, and they help Alicia's dad with planting and harvest. Greg, who studied agronomy at Iowa State University, helped his father-in-law transition to strip-till practices last year.

"Greg helped my dad understand what new practices would work best on his farm," said Alicia, who also blogs about her life on the farm at "Fit and Farm" (http://www.fitandfarm.com). "He has more time to try new things because we are helping him."

Ryan England, 23, a crop and cattle farmer who currently lives in Dallas County and works in seed sales. "My boss and I, we've done a lot of work on application timing for nitrogen (fertilizer)," England said. "We took a Snapper lawn mower, and we built it so it can drive down the (crop) rows. We do small-scale plot tests. We can do more side-by-side studies." Through the comparisons, they are helping local farmers determine the best time to more precisely apply nitrogen, so the crops can fully use it. "Maybe (the farmers) have always done it this way, but why is that? We're in a data world, and collecting that data and recording it is a great tool to take advantage of," England said.

Ben Pullen, 33, a sheep farmer from Clay County. Pullen lives on a Century Farm, and he has left some of his farm untouched from cultivation.

"I like to have nature. I like to have the wildlife. I think the farm is connected with nature and wildlife. It's the joy of being out here," Pullen said. "I seriously think that when we make decisions about our farm, we do think about what impact it is going to have 50 years down the road, 100 years down the road."

By Teresa Bjork. Teresa is Iowa Farm Bureau's senior features writer.