Wiegmann First on ANF Wall of Honor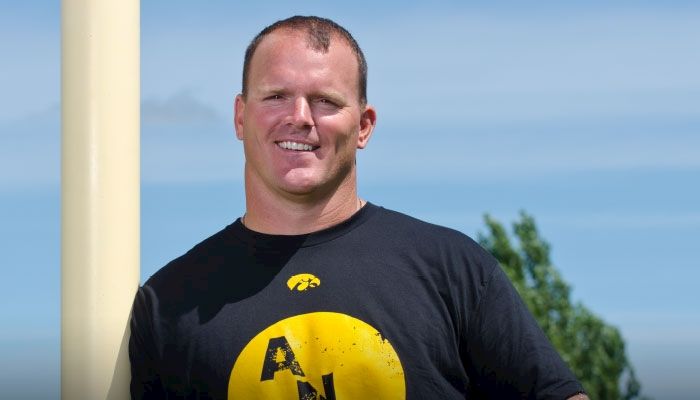 So how does one go from being a young boy growing up in rural Iowa to a successful man with a record-setting 16-year career in the National Football League? That's exactly the path taken by Casey Wiegmann, a product of the highly-successful football program at Aplington-Parkersburg High School.

Wiegmann earned all-Big Ten status at the University of Iowa before embarking on a brilliant NFL career that included a record-setting string of consecutive starts for the Kansas City Chiefs. Drive, determination, persistence, patience, and a "can-do" attitude... Ask Wiegmann, who will be honored by the Iowa Farm Bureau and the UI Athletics Department Saturday night when Iowa entertains Penn State in the second annual ANF Day at Kinnick, and he will tell you that it has a lot to do with growing up in a town that was then and still is today influenced greatly by the state of Iowa's largest economic force: Agriculture.

"I didn't grow up on a farm, but my father has worked at John Deere for 37 years. I grew up around farmers and those in the business of farming. I know how hard they work day-in and day-out. They set a great example for the rest of us to follow," said Wiegmann, who is the first former Hawkeye to have his named added to the ANF Wall of Honor inside ANF Plaza at historic Kinnick Stadium.

Like many young boys growing up in rural Iowa, Wiegmann was a multi-sport student-athlete at A-P. He played baseball and basketball, and was a member of the track and field team. It was in the sport of football, however, where he separated himself from his peers and, interestingly, not on the offensive side of the line of scrimmage. Wiegmann played defensive end and collected a school-record 17 quarterback sacks during his prep career, an achievement that helped him earn first-team all-state honors as a senior and first-team all-conference honors three times. He also averaged 34.7 yards per punt and was good on 34 of 38 point-after-touchdown kicks.

He joined the Iowa football program in 1991 and, after red-shirting his freshman year, began a career that ended with 27 starts at the center of the Hawkeyes' offensive line. He earned honorable mention all-Big Ten honors from both the league's coaches and media, and was named team MVP his senior season - 1995 - when he was also invited to play in the East-West Shrine Game and the Hula Bowl.

However, in spite of his success, Wiegmann didn't hear his name called during the 1996 NFL Draft. That's when the characteristics woven deep into the fabric of America's farmers and those who live, work, and play in farming communities - drive, determination, persistence, patience, and a "can-do" attitude - kicked in.

With no call to answer on draft day, Wiegmann did what an Iowa farmer would do: Get to work. He eventually signed a free agent contract with the Indianapolis Colts, a move that put in motion a career that ended with Wiegmann widely recognized as a workhorse who was also among the very best at his position. He was a New York Jet for the 1996 and 1997 seasons and a Chicago Bear for the next three years.

Then, in 2001, he found a home: Kansas City. Wiegmann was a mainstay in the Chiefs' offensive line for eight of the next 10 seasons, a string that was interrupted by a two-year stint with the Denver Broncos. When he officially retired earlier this year, Wiegmann did so with active streaks of 175 consecutive starts and 11,162 consecutive snaps - remarkable numbers for a player who began his NFL career as an undrafted free agent.

"There have been times (I thought the streak would end), definitely, but I'm here to play football," Wiegmann told Josh Looney of the Kansas City Chiefs official web site last December. "Even though there is pain in there, there is an understanding that you can't be out."

"It's just marvelous and unbelievable that he's stayed healthy through all of those snaps playing the position he plays because sometimes you have those big nose tackles on your nose and they beat you up," added Wiegmann's head coach, Romeo Crennel. "They're looking to beat you up basically and for him to be able to hang in there and get done what he has to do for that many snaps, that's pretty good."

The ANF Wall of Honor salutes former University of Iowa football student-athletes who exemplify the tenacity, work ethic, and character of the Iowa farmer, qualities that have helped Iowa remain the leading agriculture state in the nation. Their names will be added to a plaque inside ANF Plaza which is located in the northwest corner of historic Kinnick Stadium. That plaque rests next to another that tells the story of ANF and the importance of farming.

"We are so honored to have outstanding individuals such as Casey support our cause," said Craig Hill, Iowa Farm Bureau president. "There may be fewer farmers today than when Coach Fry launched ANF during the 1980's Farm Crisis, but there are also more challenges with a growing global population. And players like Casey understand the value of hard work."

"Casey was a natural choice as the first inductee. He is a role model for other student-athletes who understand the importance of persevering and always striving to do your best," said UI football coach Kirk Ferentz.

"I got to play one year with (the ANF sticker) on my helmet and it meant a lot to me," Wiegmann said. "I always made sure to keep it detailed and I still have a couple of them. To see the sticker on our helmet and to know what it stands for is pretty special."

"I've learned a lot of stuff from a lot of great football players," Wiegmann added during his visit with Looney. "I've been taught a lot of things through my years, even family values and everything else. You kind of take that with you wherever you go and you take that to heart. Hopefully I can pass some of that on to the younger players and help them succeed."

Then, Looney wrote, appropriately and correctly: A native of blue-collar Parkersburg, Iowa - an agricultural town of about 1,900 people in northeastern Iowa - Wiegmann would be just as likely to fade anonymously into an Iowa cornfield than hold a press conference announcing his retirement prior to a season officially ending.

"I've already got my own plan," Wiegmann said. "I called my best friend last night and we have our own business. I'll probably be (in Iowa) next weekend doing stuff to help out around our land. There is work to be done."

Work indeed. Wiegmann's next chapter will be behind the wheel of a tractor, joining the ranks of Iowa's FarmStrong families as a farmer himself.