Why my backyard garden won't feed the world (or the neighborhood)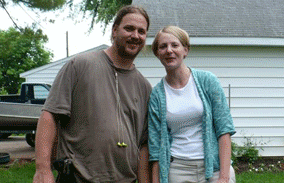 Everyone has a bad habit they would like to break. Some people bite their fingernails; others can't say no to chocolate. My bad habit? Gardening.
OK...maybe it doesn't really qualify as a bad habit. But it certainly feels like an obsession sometimes.
Every night when I get home from work, the first thing I do after kissing my husband on the cheek is head out the backdoor to check on my garden.
A neighbor once asked why I was out pulling weeds while still wearing heels and dress pants. "Stress relief," I told him, as I yanked a maple tree seedling from the damp soil.
Lately I've heard news reports that vegetable gardening is a "hot" new trend. More and more Americans are growing vegetables in their backyards to save money on grocery bills or support the "local food" movement.
I didn't start gardening because it was trendy. After all, as a typical Iowan, I'm about two years behind the latest trends.
No, I started gardening when my husband and I bought our first house about five years ago.
I mentioned to my farm-boy husband that I wanted to plant a few flowers in the backyard. I came home from work one day to find that he had dug up a sunny patch of lawn in our backyard using nothing but a shovel and some elbow grease.
All of the sudden, I had a 5-foot-square bare spot in the yard that I needed to fill with something besides weeds.
At first, I played it safe and planted tomatoes, because everyone in Iowa wants their own backyard tomato vine. Then during a stop at a local home-improvement store, my husband grabbed a packet of lettuce seeds to plant.
The lettuce turned out to be ridiculously easy to grow. And when I ate my first BLT with the lettuce and tomatoes I grew in my backyard, I was hooked on gardening.
Every winter, I come up with big ideas to plant all kinds of different vegetables and flowers in the spring. But once the snow melts, I remember just how little space I have to work with, given the towering pine trees that shade our backyard.
And it seems like Mother Nature never wants to cooperate. Rabbits ate the tops off my sweet potatoes; squirrels dug up my onion bulbs; the pumpkins and squash were overrun by moths and vine borers; and we ended up with way, way too many green beans for two people to eat.
If I've learned anything from my gardening adventures, it's that growing food is hard work – all the weeding, watering, pruning and screaming when the occasional garter snake crosses my path.
I've definitely come to appreciate all the work that farmers do to grow such beautiful, delicious and healthy foods for my family.
Today, the average U.S. farmer grows enough food to feed 155 people. Meanwhile, I can't get close to feeding a family of two from my little garden (although I'm doing a good job of feeding a family of rabbits).
I'm glad that I can rely on the local farmers' market when my tomatoes are bug-ridden or refuse to turn red in an unseasonably cool summer.
And when I'm craving a BLT in the middle of January, it's amazing that I can head over to the small-town grocery store just three blocks from my house and pick up hothouse tomatoes from Canada and iceberg lettuce from California.
Because if there's anything worse than my bad gardening habit, it's my year-round obsession with BLTs—made with Iowa bacon, of course.
Written by Teresa Bjork
Teresa is a features Writer for the Iowa Farm Bureau.