When it's cold, farmers head outside to care for livestock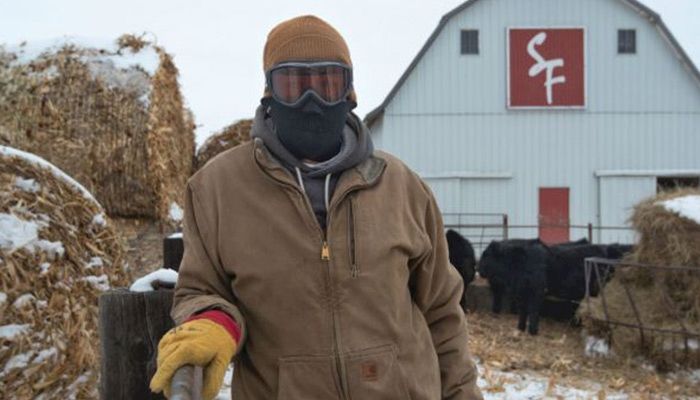 Iowa's brisk winter temperatures and snow means all I want to do is snuggle up in a warm blanket by our fireplace and sip hot chocolate. But sub-zero temperatures like those we've experienced this winter remind me of times I spent growing up on my parent's pig farm in northeast Iowa.
When I was a kid living with my parents, we raised pigs outdoors year-round in addition to raising pigs in confinement barns. The outdoor lot was split into seven longer pens. On the north side of the paved pen, there was shelter and bedding so pigs kept warm in corn stalk bedding and out of the wind during cold weather. Nearby, they had access to feed. On the south side of the longer pens, each pen of pigs had access to waterers for drinking.
Having waterers outdoors in the winter meant several extra checks to make sure water wasn't frozen inside. I don't even like to go out and shovel our driveway now, but I remember Dad bundling up several times to check on the waterers and thaw them out if necessary so the pigs wouldn't go thirsty.
Doing chores in those winter months seemed endless to me as a kid. One storm that I'll never forget brought an abundance of snow and ice, making footing treacherous for humans and pigs. We needed to sort pigs for market and had to use our sorting panels to brace ourselves on the ice. Pigs were quick on four hooves, quicker than the four of us of trying to safely escort them out of their pens and into a larger holding area meant for only the pigs heading to the market.
It was a long, cold day. But it's memories like these that remind me of the farmers who battle the snow, ice, and other elements to care for their livestock.
As one farmer reminded me recently, pigs and other livestock don't care if it's a holiday or an especially cold day, they need feed and water and care. And as I talk to livestock farmers and ask how they're dealing with the cold weather, they don't complain about the cold or having to go outside to do chores. Instead, they're worried about water freezing, snow piling up in outdoor lots, and providing the best care for their animals.
It's because of these men and women who care for their livestock that I'm able to snuggle on the couch in my warm blanket and sip hot chocolate without second guessing the safety of the dish I plan for the next meal.
Bethany Baratta is the commodities writer for Iowa Farm Bureau Federation.