What is "Farm Strong"?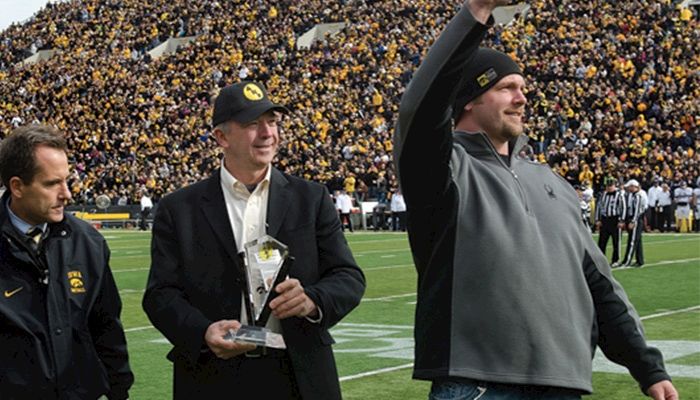 Jared DeVries doesn't have an ounce of quit in him.
Iowa's career leader in quarterback sacks played 12 injury-riddled seasons in the NFL. Thirteen surgeries later, he sat in front of a group of reporters last Friday and
shared the source of his resilience.
"I think it was just the determination that my parents instilled in me along the way that allowed me to do that," said DeVries. "I just kept my nose to the grindstone… And I just took it off the farm and put it in a football setting. You get off the surgery table and just go back to work."
Today, DeVries farms near Clear Lake, Iowa, with long-time friend and former Hawkeye teammate Casey Weigmann. Last weekend he joined Weigmann as the second member of Kinnick Stadium's
America Needs Farmers
Wall of Honor.
DeVries' story has a familiar ring, but it's a reminder we need to hear from time to time. You may not have to endure torn shoulders or a ruptured Achilles, but life is going to deal you challenges, and you'll have to summon the strength to overcome them.
It's a lesson my three-month-old daughter learned during a Sunday visit to her grandparents' farm in early October.
Long story short – Dad's combine broke down moments before Rowyn's first combine ride. He spent the next hour diagnosing and experimenting before conceding that he couldn't fix the problem before we had to return home.
Later that evening (around 9 p.m.), Dad called. He had used a hand grinder to fashion a castle nut and fix the combine's malfunctioning slip clutch. It was ready to roll, and Rowyn was welcome to come back for her ride any time.
"Farm Strong" Moments
I'm not saying you have to farm or have a farm background to have a resilient, get-it-done mentality.
We're all capable of "farm strong" moments. You probably know a teacher who arrives early to help her students, a worker who won't clock out until the job is done, or a friend who would never leave you sitting on the side of the road with a flat.
It's not flashy heroism. It's modest, behind-the-scenes grit. It's what it means to be an Iowan. And it's worth celebrating.
By Zach Bader. Zach is the Online Community Manager for the Iowa Farm Bureau Federation.