Welcome back Iowa's farmers market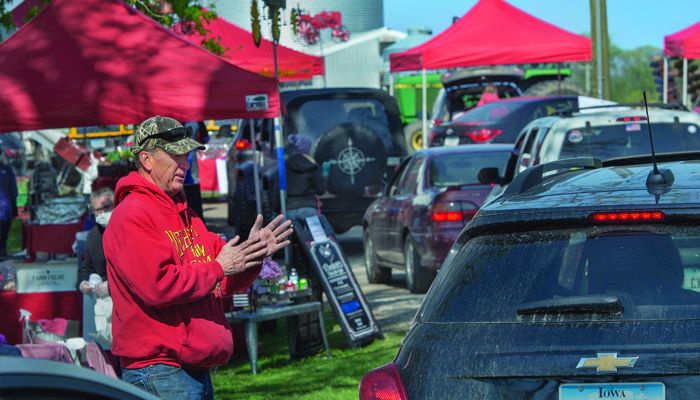 Get excited: Farmers market season is back! Iowa farmers make adjustments as new 2021 season starts.
Farmers Markets in Iowa are one of the great pleasures of summer.
More than 200 farmers markets are held in the state from May through October. Iowa ranks fourth in the nation for the number of markets.
Farmers markets provide direct marketing outlets for more than 1,700 vendors of fresh locally grown produce, baked goods eggs, meat, wine, cheese and crafts.
A 2009 Iowa Farmers Markets Economic Impact Study by the Iowa Department of Agriculture and Land Stewardship and Iowa Farmers Market Association says Iowa's farmers markets generate $38.4 million in sales and an estimated $59.4 million gross sales transactions directly or indirectly related to market activity.
That was pre-COVID, before everything changed.
COVID hit just as markets were preparing to open in 2020. Larger venues like the Des Moines Downtown Farmers' Market and the Ames Main Street Farmers' Market morphed into online versions. Smaller markets made changes to provide as safe an outdoor shopping experience as possible.
This year is proving to be another year of adaptation, as markets try to find the perfect blend of open hospitality and health and safety.
At Rinehart's Family Farm near Boone, Greg, Polly, Daniel and Hope Rinehart are looking to rely on last year's creative solution.
The Rineharts' farmers market drive-thru will return again this year on Saturdays mornings. Shoppers stay in their cars as they make their way past the row of vendors, with a "personal shopper" walking along side. They make their selections, then pay one bill at the end of the row.
Along with the usual market fare, shoppers will find bedding plants and flowers from local greenhouses, morel mushrooms in season, and the farm's signature grilled asparagus sandwich.
Rineharts are 25-year veterans of the Des Moines Downtown Farmers' Market. When the market abandoned its live presence last year, they set up shop at home and found they did just as well, if not better. "We get a lot of those customers that drive up from Des Moines," says Greg Rinehart. "It's a beautiful drive."
The farm has built on the success of the approach with a drive-thru corn maze, and they are planning to add a picnic area for those comfortable getting out of their cars to eat their asparagus sandwich.
At the Boone Farmers Market where the Rineharts also sell their wares, they provide extra distancing from customers with two tables in front of them.
The Des Moines Downtown Farmers Market opens May 1, but the variety of vendors will be limited. To allow for social distancing, prepared food and arts & crafts vendors will no longer be present. Nor will there be children's activities or live entertainment.
Those who attend will have to follow the latest COVID guidelines. Masks will be required for attendees and vendors, and hand sanitizer stations will be available throughout. Customer walking traffic will be limited to one-way paths. An extra booth-length distance will be placed between the 110 to 115 vendors.
The popular Ames Main Street Farmers Market tried an online option last year, but abandoned it by summer's end. "We weren't getting the orders, and we lost our processing space," says Market Manager Lojean Petersen. The Ames Main Street Farmers' Market is held on Saturday mornings..
This year will feel more normal, with masks required. The market requires them of vendors.
Baked goods must be individually wrapped. Shoppers are encouraged not to linger and to social distance. Hand washing stations and hand sanitizer will be in ample supply.
"Our vendors are anxious to get out and sell goods," says Petersen. "Hopefully, they can do so safely. We're certainly going to do everything we can."
In western Iowa, the Harrison County Welcome Center Farmers Market near Missouri Valley is taking the same approach as others across the state. They will maintain ample distance between booths and encourage shoppers to wear masks. The site includes the Harrison County Historical Village with a gift shop and public restrooms, so extra sanitizing is in order and the entire site boasts plentiful signage reminding people of precautions.
There will be no kick-off event, and popular events like wine tastings are on the "maybe later in the summer" list. The market is held on Thursdays from 3:30 p.m. to 6:30 p.m.
Most of their regular vendors plan to return, according to Program Manager Kathy Dirks, who says people's safety is utmost on their minds as they try to return to normal this spring.
Market organizers across say they expect farmers market popularity to grow going forward as people continue their renewed appreciation for locally grown food and products. Despite the disruptions, many vendors claim last year was one of their best years.
Iowa Farm Bureau does its part. As it has for more than a decade, Farm Bureau supplies more than 1 million recyclable plastic shopping bags to farmers market vendors, free for the asking.
"That's a big help to us," says Greg Rinehart. "We're thankful for all our friends, neighbors and customers who support us. And we're thankful for that support, too."
Queck-Matzie is a freelance writer from Greenfield.