Visit a doctor without leaving home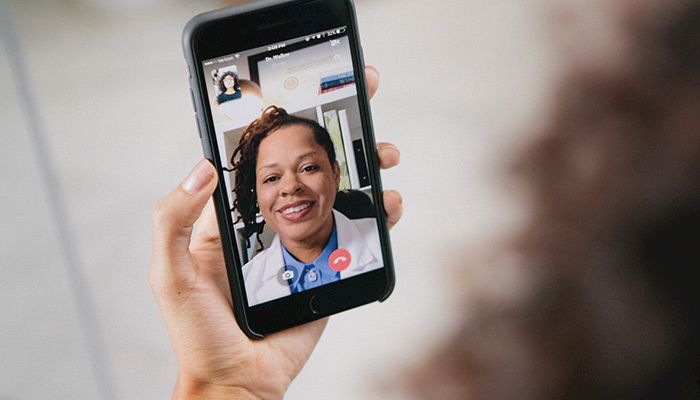 Let's face it, going to the doctor's office isn't something we want to do, even when we aren't feeling well.
It's a hassle to call ahead to make an appointment, rearrange your schedule for the day, then wait in the lobby, hoping not to catch whatever germs everyone else waiting has.
However, now you can avoid all the stress, plus save time and money. Your smartphone can connect you to a doctor, without having to get up from the couch.
The Doctor on Demand app is a convenient, low-cost health care option available to most Wellmark customers, including self-insured clients enrolled in the Farm Bureau Health Plan.
Doctor on Demand connects patients via videochat on a smartphone, tablet or desktop to a board-certified physician. The doctors can treat common illnesses such as ear infections, sore throat, bronchitis, sinus infections, rashes and more.
Ratings from customers after using the Doctor on Demand service are high, averaging 4.9 out of 5 stars, says Tom Newton, vice president of network engagement for Wellmark in Des Moines.
"You aren't waiting in an office. You're waiting online, probably walking around your house holding your smartphone. It is actually a smooth process and very, very quick to see a physician. People just like that convenience," Newton says.
Besides the convenience of not having to travel to the doctor's office, the average wait time on the Doctor on Demand app is only 5 minutes.
And for patients with high deductible health insurance plans, Doctor on Demand can help you save money. The cost of a Doctor on Demand visit is less than $50, compared to $150 or more when visiting a doctor's office.
The number of patients using Doctor on Demand continues to grow. In summer 2019, Doctor on Demand is expected to surpass 2 million total video visits since it was first launched four years ago.
To connect with doctor online, you must first download the "Doctor on Demand" app from the iTunes store or Google Play. The app will walk you through the registration to get started.
You are connected for a video visit within minutes. A timer on your phone will count down the wait time to see the next available doctor.
Prescriptions, if needed, are sent directly to the pharmacy of choice. Doctor On Demand physicians can also order lab work, allowing for the treatment of a broader range of conditions and chronic care management.
If it's a serious medical condition, Doctor on Demand will refer you to an urgent care clinic or emergency room for further treatment.
"There are some examples of situations where people had chest pains, and they advised that individual to immediately go to the hospital. And sometimes, they will even say, if you want, we will contact an ambulance to come and get you," Newton says.
Doctor on Demand also offers behavioral health services and access to psychologists to those who qualify. Check with your insurance plan to make sure behavioral health visits are covered.
Doctor on Demand isn't meant to replace your relationship with a primary care doctor, Newton said. It's another convenient option for patients, especially busy families, those who live in rural areas and patients who are traveling away from home.
"People may be a little apprehensive about using the technology. But once they overcome that initial hurdle, they are sold on it," Newton says. "I wouldn't hesitate to advise any of my friends and family to download the app and use this service."
To review your health care benefits, log in to www.wellmark.com or download the new myWellmark app from the Apple iTunes store or Google Play for Android phones.