Visit Farm Bureau Park for wide range of health screenings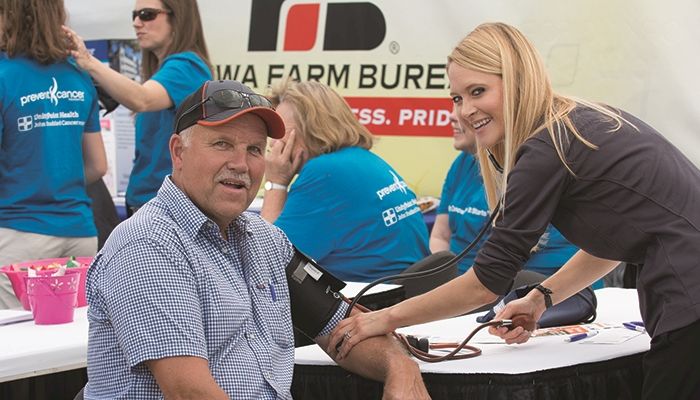 Check out the wide variety of free health screenings offered by Iowa health providers in Farm Bureau Park during the Iowa State Fair.
Health professionals and students will be available daily to provide free blood pressure testing and additional valuable health screenings from 9 a.m. to 3:30 p.m. The screenings change daily so be sure to check the detailed schedule.
On Farm Bureau Day which is Tuesday, Aug. 16, IFBF Partner of Choice Stroke Detection Plus will provide free abdominal aortic artery screenings for two hours starting at 9 a.m. Sign up early at Farm Bureau Park that morning if you'd like to participate.
Free dental screenings will be offered for the first time in Farm Bureau Park, provided by Des Moines Health Center Inc. on Tuesday, Aug. 16, and Sunday, Aug. 21. You can get your hearing checked by Woodard Hearing Center on Tuesday, Aug. 16, or Wednesday, Aug. 17.
John Stoddard Cancer Center and Prevent Cancer Foundation have recruited specialists to provide free nutritional counseling on Thursday, Aug. 11, screenings for oral, head and neck cancer on Friday, Aug. 12, and skin cancer on Friday, Aug. 19. In addition, they will share information on cancer prevention and offer fairgoers the opportunity to Spin a Wheel for a chance to win a prize.
Are you afraid of falling? Physiotherapy Associates will provide balance and osteoporosis screenings on Thursday, Aug. 11, and Wednesday, Aug. 17.
IFBF Partner of Choice Wolfe Eye Clinic will be offering free glaucoma screenings on Friday, Aug. 12. On Wednesday, Aug. 17, which is Older Iowans' Day, Des Moines Area Community College and the American Lung Association are teaming up to provide free lung health and blood pressure screenings.
On other days, students from Drake College of Pharmacy and Health Sciences, Mercy College Association of Nursing Students, Des Moines University and Grand View University Nursing Student Association will provide blood pressure screenings.
Health and Wellness Screenings at Farm Bureau Park by Day
Thursday, August 11
9 a.m.-12 p.m.: Eat Right to Fight Cancer
9 a.m.-3:30 p.m.: Balance and osteoporosis screenings
9 a.m.-3:30 p.m.: Blood pressure screenings
9 a.m.-3:30 p.m.: SPIN to WIN prizes and learn about cancer prevention
Friday, August 12
9 a.m.-3:30 p.m.: Glaucoma screenings
9 a.m.-3:30 p.m.: Oral, head and neck cancer screening
9 a.m.-3:30 p.m.: SPIN to WIN prizes and learn about cancer prevention
9 a.m.-3:30 p.m.: Blood pressure screenings
Saturday, August 13
9 a.m.-3:30 p.m.: Blood pressure screenings
Sunday, August 14
9 a.m.-3:30 p.m.: Blood pressure and body mass index screenings
Monday, August 15
9 a.m.-3:30 p.m.: SPIN to WIN prizes and learn about cancer prevention
9 a.m.-3:30 p.m.: Blood pressure screenings
Tuesday, August 16 FARM BUREAU DAY
9 a.m.-11 a.m.: Abdominal aortic artery screenings
9 a.m.-3:30 p.m.: Blood pressure
9 a.m.-3:30 p.m.: Dental screenings
9 a.m.-3:30 p.m.: Hearing screenings
Wednesday, August 17
9 a.m.-3:30 p.m.: Hearing screenings
9 a.m.-3:30 p.m.: Lung health and blood pressure screenings
9 a.m.-3:30 p.m.: Balance & osteoporosis screenings
Thursday, August 18
9 a.m.-3:30 p.m.: SPIN to WIN prizes & learn about cancer prevention
9 a.m.-3:30 p.m.: Blood pressure
Friday, August 19
9 a.m.-3:30 p.m.: Skin cancer screening
9 a.m.-3:30 p.m.: SPIN to WIN prizes and learn about cancer prevention
Saturday, August 20
9 a.m.-3:30 p.m.: SPIN to WIN prizes and learn about cancer prevention
9 a.m.-3:30 p.m.: Blood pressure
Sunday, August 21
9 a.m.: SPIN to WIN prizes and learn about cancer prevention
9 a.m.: Dental screenings