'Tis the season - Discover Iowa's unique holiday destinations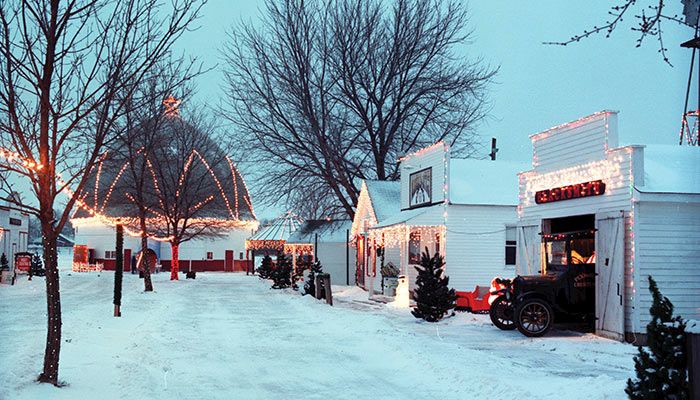 The wonder of the holiday season is upon us, and there are many magical, festive events across the state this month ranging from a musical featuring Rudolph to ornament-making workshops and shopping in Santa's Village.
Jessica O'Riley with the Iowa Tourism Office said the following are wildly popular with Iowans and their guests in town for the holidays:
Prelude to Christmas, Amana Colonies, Dec. 2-4. This weekend features extended shopping hours along festive candlelit streets and a special stop at the Tannebaum Forest. Saturday features a cookie walk and a craft bazaar along with live entertainment.
Pioneer Village Christmas Won­derland, Le Mars, Dec. 3-4 and 10-11. Held at the county fairgrounds, this authentic pio­neer village is lit up brightly for the holidays. Guests can go on a horse-drawn sleigh ride, view a live nativity scene and listen to special musical performances. There also will be marshmallows to roast over a campfire and hot chocolate to sip.
Christmas in Atlantic, Atlantic, through Dec. 14. Atlantic con­verts itself into a city of lights at the grand lighting event, which will dazzle visitors.
Jingle in the Junction, West Des Moines, Thurs­days through Dec. 15. The quaint businesses in the historic Valley Junction area of West Des Moines and surrounding streets will be adorned with more than 150,000 twinkling lights. Plus, there are horse and trolley rides, visits with Santa, caroling, live ice sculpture demonstrations and balloon magic.
It's Beginning to Look a Lot Like Christmas, Mason City, through Dec. 30. Mason City native and composer Meredith Wilson's music is set to an animated holiday display on the square that's sure to get the toes tapping.
Mount Pleasant Festival of Lights Christmas Display, Mount Pleasant, through Dec. 31. Spon­­sored by Old Threshers, a 60-acre park is magically converted into one of the largest holiday lighted displays in the Midwest that families can drive through. There's more than one mile of displays, including a giant 40-by-120-foot animated toy factory.
Other fun and festive events awaiting families across the state this holiday season include:
A Story Book Christmas Main Street Lighted Christmas Parade, Oskaloosa, Dec. 1. Enjoy an evening in Oskaloosa for what's been voted as the No. 1 holiday event in the state by Main Street Iowa. Thousands turn out for this event, which includes not just the parade, but live gospel music, a tree festival, children's crafts, holiday market and an appearance by Santa and friends.
Winter Nights, Holiday Lights — TUBACHRISTMAS!, Estherville, Dec. 1. Estherville will glitter and glow with special holiday lights, and the air will fill with the melodic sounds of carolers and tuba players during this special event. There will be horse-drawn wagon rides and a visit with Santa.
Joseph Hall: Elvis Rock 'n Rem­ember Christmas Show 2016, Coralville, Dec. 1. If you're an Elvis fan, you won't want to miss this show. Performer Joseph Hall covers three decades of Elvis hits, including his Christmas songs. Hall re-creates the moves, the look and the sound of Elvis Presley. He's even performed on "America's Got Talent," "The Morning Show" and "Good Morning America."
Pella Christmas Tour of Homes, Pella, Dec. 1-3. Discover the beauty of Pella and the Pella Opera House during the holiday season. This is the 54th annual Christmas tour of homes with traditional Dutch-themed treats to enjoy along the way.
Christmas in Kalona, Kalona, Dec. 3. Geared toward children, this magical event encourages them to fill their stockings with gifts from local mer­­chants, decorate cookies and ornaments, visit with Santa and watch a holiday movie. There also will be a cookie walk, tour of churches, carriage rides and toy drive.
Family Christmas, Living History Farms, Urbandale, Dec. 3. Enjoy a horse-drawn wagon ride over to the festively decorated Flynn Mansion for a fun peek at a period Christmas celebration, then participate in an old-fashioned holiday social at Church of the Land. Children can print their own holiday greeting cards, create holiday crafts and decorate cookies.
Hometown Christmas, DeWitt, Dec. 3. Spend the day in DeWitt and celebrate the season with a special appearance by Santa, a children's Christmas carnival, holiday movie viewing, a one-mile holiday fun run, festive window walk and a lighted holiday parade.
Mannheim Steamroller Christmas by Chip Davis, Des Moines, Dec. 3. For more than 30 years, people have ushered in the holiday season with a performance by Grammy Award winner Chip Davis that features Mannheim Steamroller Christmas classics.
Moscow Ballet's Great Russian Nutcracker, Sioux City, Dec. 5. Celebrate the season with this classic Christmas tale and breathtaking ballet with the Moscow Ballet's Great Russian Nutcracker featuring giant magical props, a 60-foot-tall growing Christmas tree and Russian-made costumes and sets.
Glass Christmas Ornament Class, Indianola, Dec. 10. Create a holiday ornament from stained glass patterns as a gift or for your home. Classes are perfect for beginners to advanced crafters.
Rudolph the Red-Nosed Reindeer — The Musical, Sioux City, Dec. 11. Santa's sidekick Rudolph takes center stage in this musical featuring all the favorites — Santa, Mrs. Claus, Hermey the Elf, the Abominable Snow Monster, Clarice and Yukon Cornelius.