The pursuit of bacon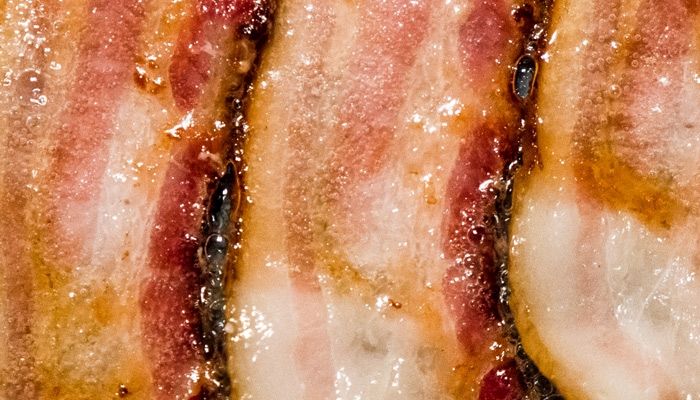 This past weekend, I discovered that there is no such thing as too much bacon.

I quickly lost track of how much bacon I sampled at the Blue Ribbon Bacon Festival Feb. 18 in Des Moines (or to be more honest, I stopped counting after the sixth piece of bacon). Yet I kept standing in long lines waiting for more, amazed at the endless variety of bacon-inspired dishes.

In its fifth year, the Blue Ribbon Bacon Festival attracted national attention and has become the must-eat event for Iowa foodies. It was my first visit to the festival, and I was lucky to get a ticket. The 4,000 available tickets were sold out in less than 20 minutes.

The fun-loving crowd arrived with hearty appetites as they gathered at the Iowa State Fairgrounds to celebrate all things bacon. Banners hanging from the rafters of the Varied Industries Building proudly declared, "Ohhhh, bacon!" Attendees donned plastic pig snouts, bacon costumes and humorous T-shirts, many paying homage to the actor Kevin Bacon.

The lines at the vendor booths were so long it was hard to tell where they began. Often, I didn't know what bacon concoction the vendor was serving until I got to the front of the line.

I ended up sampling bacon sausages, bacon and blue cheese appetizers, and bacon gumbo. I gobbled up a quesadilla filled with bacon, grilled pineapple and melted mozzarella cheese. I watched while a restaurant vendor stuffed bacon inside a soft corn tortilla, then topped it with hot sauce, onions and cilantro, for a twist on the traditional BLT.

And who would have guessed that I would fall head-over-heals with "The Elvis" – a bacon, honey, peanut butter and banana pizza. The bacon cheesecake and caramel bacon gelato were life-changing. I may never eat ice cream without bacon again.

Of course, I also found plenty of vendors offering just plain ol' bacon. Often, the farmers themselves were serving up the bacon slices, hot off the frying pan. I walked around the festival with bacon grease dripping from my fingers. Thankfully, the napkins were plentiful.

It only makes sense that Iowans celebrate their love of bacon. As the top pork-producing state in the nation, bacon is part of our heritage. Nearly every Iowan has a connection to the pork industry, either directly or indirectly.

Iowa farmers are known for raising the best pork in the world, and we should be proud of their accomplishments. After all, could you imagine a world without bacon – on your burger, your omelet or even your salad? So whenever you hear bacon sizzling in a pan, feel free to shout out: "Ohhh, bacon!" You'll be in good company.

Written by Teresa Bjork
Teresa is a features Writer for the Iowa Farm Bureau.