The new faces of farming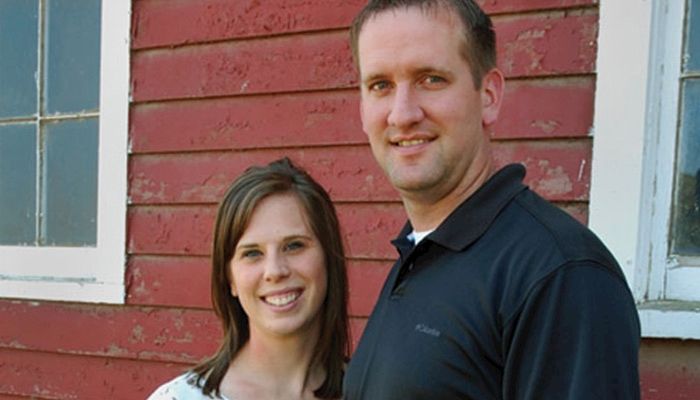 In the United States, farmers make up less than 2 percent of the U.S. population and the average age of American farmers today is 57 years old. So as the generation of farm Baby Boomers inches closer to retirement, who will be in the next crop of young farmers?

Let me introduce you to one: Ben Johnson.

Ben, 29, is a fifth-generation farmer from Ireton in far northwest Iowa and newly-elected chair of the Iowa Farm Bureau Young Farmer Committee. He and his wife, Janelle, both grew up on hog farms and are excited to carry on the tradition.

Ben started farming early. When he was still an ag student at South Dakota State University, he decided to start raising hogs on his own and built two finishing barns.

Like a lot of young farmers, Ben is doing things a bit differently than his parents. He custom feeds hogs for a Minnesota-based company. Ben says custom-feeding is a good way for young farmers like himself to get a foothold into farming.

"My dad had always owned hogs, but there was a lot of (price) volatility with that ...," Ben says. "That's why I decided to do the custom-farming route. It's a steady paycheck that comes every month, and you don't have to worry about what the market does as much. And it's easier to get financing from a bank because I have a contract signed for so many years."

Ben also raises hogs indoors because it's better for the animals and the environment. The modern barns that Ben raises hogs in today help protect the animals from the elements and allow Ben to monitor their health and feed intake better.

When Ben was growing up, his dad raised hogs in outdoor lots. Ben remembers having to do chores and check on the hogs through the cold northwest Iowa winters.

As chair of the Iowa Farm Bureau Young Farmer Committee, Ben says he hopes to help other young people who dream of getting into farming.

"My dad was really able to help me get up and going, but not everybody has that same opportunity," Ben says. "I want to help other young farmers get started a live a good lifestyle on the farm and be able to raise a family in a good environment."

Written by Teresa Bjork
Teresa is a features Writer for the Iowa Farm Bureau.