The best deals at the 2016 Iowa State fair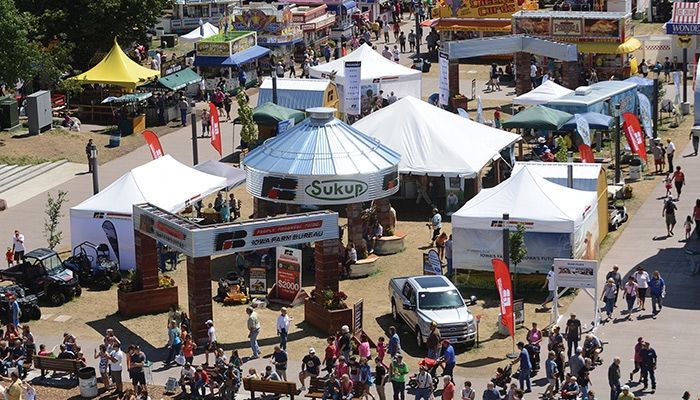 Worried about emptying your wallet after buying giant lemonade shake-ups and Skyglider tickets for the whole family at the Iowa State Fair this year?

Farm Bureau members can save money during the state fair, and year-round, from benefit partners Stroke Detection Plus, Ford, Polaris, Case IH, Morton Buildings, Caterpillar and more. Learn more about these exclusive member savings at Farm Bureau Park at the Iowa State Fair Aug. 11-21 in Des Moines.

Stroke Detection Plus: If you've wondered about your risk for stroke, get to Farm Bureau Park early Tuesday, Aug. 16 to sign up for a free abdominal aortic aneurysm screening conducted by our Partner of Choice, Stroke Detection Plus. This screening uses ultrasound imaging to scan and measure the largest blood vessel in the body, located right above your belly button.

ClearValue Hearing: Woodard Hearing will offer free hearing screenings from 9 a.m. to 3:30 p.m. on Tuesday and Wednesday, Aug. 16-17 in Farm Bureau Park.

Wolfe Eye Clinic: Free glaucoma screenings will be conducted on Friday, Aug. 12 from 9 a.m. to 3:30 p.m. Also, members interested in lasik eye surgery should stop by to learn about the procedure and the exclusive 20 percent discount Wolfe Eye Clinic offers our members.

Caterpillar: Through a new partnership, Farm Bureau members enjoy exclusive savings of $250 to $2,000 on the purchase or lease of qualifying Cat construction equipment — including skid steer loaders, telehandlers, dozers, backhoe loaders and mini excavators. Equipment will be on display daily.

Polaris: Visit Farm Bureau Park any day to visit with Polaris representatives and to check out new off-road vehicles that qualify for exclusive savings from Polaris for Farm Bureau members — $300 on full-size Ranger, RZR and BRUTUS utility vehicles and $200 on full-size Sportsman ATVs and ACE vehicles. A minimum 30-day membership is required.

Ford: Through a partnership with the Ford Motor Company, members qualify for $500 exclusive savings on the purchase or lease of most new Ford vehicles and $750 exclusive savings on most Lincoln vehicles. A minimum 30-day membership prior to purchase is required.

Morton Buildings: Visit with Morton Building representatives in Farm Bureau Park on Thursday and Friday, August 11-12 from 9 a.m. to 5 p.m. Members qualify for exclusive savings of $500 on non-insulated buildings and $1,000 on insulated buildings, in addition to show specials.

Farm Bureau Financial Services: Join us at the Farm Bureau Financial Services tent for SuperCheck games and a chance to win prizes. The FBFS tent will be open 9 a.m. to 8 p.m. the first week of the fair and on Farm Bureau Day Aug. 16, and from 9 a.m. to 6 p.m. the second week of the fair.