The best bacon comes from Iowa (of course!)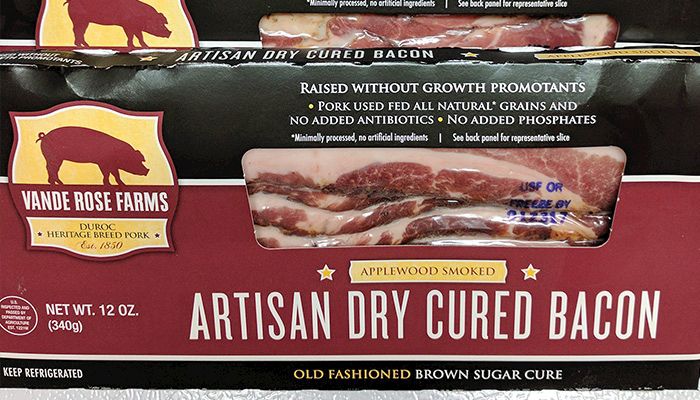 There are few food experts as discerning as the bacon connoisseur. Fried up crispy or limp next to eggs, nestled between ample layers of Iowa-grown lettuce and tomatoes, covered with chocolate, or used for added flavor in, well, just about anything, bacon lovers know their bacon.
So when Vande Rose Farms bacon was named "Best Bacon in the Country" by America's Bacon Critic Scott Gold on Time Inc.'s website "Extra Crispy," the bacon world took note. Gold said the bacon "spoke to his soul."
"We've always known we were the best," says Vande Rose Farms General Manager Jordan Jurgens, "but it's good to be recognized. We're pretty happy about that."
Located in Iowa Falls, Vande Rose Farms markets premium Duroc bacon, ham and other pork products wholesale throughout the U.S. The heritage breed is known for its tenderness, color and flavor. Gold called it a "harmonious balance of flavors and textures."
Vande Rose Farms pork is raised on family farms throughout the Midwest and processed in Iowa. Producers comply with a set of guidelines that specify diet, health regimes and housing. The hogs are fed a strict vegetarian diet comprised of locally grown corn and soybeans. "We grow the best crops here in Iowa," says Jurgens. "Why not feed them?"
Leading that product list is Vande Rose Farms award-winning handcrafted artisan apple wood-smoked bacon.
The 15,000 head of Duroc hogs used by Vande Rose Farms each year are hand-selected for quality. Vande Rose Farms uses its own secret blend of herbs, salt and brown sugar to hand-rub slabs of bacon that are then smoked with pure applewood. Once processed, the bacon is thick-sliced.
"Our Durocs are known for their marbling and are the perfect hogs for bacon," says Jurgens. "The fat-to-lean ratio is perfect."
On the wholesale market, the bacon is distributed from California to New York, ultimately finding its way into food markets and restaurants. Locally, Iowans can purchase Vande Rose Farms products at Hy-Vee stores.
In addition to bacon, Vande Rose Farms sells hams through Williams Sonoma. The spiral sliced hams are basted with a salty-sweet maple bourbon glaze and slow-smoked over hickory and applewood chips.
This is not the first time Vande Rose Farms bacon has garnered national attention. It's been mentioned in Cook's Illustrated, which said it had "lots of sex appeal." Men's Health pronounced it the "Best Bacon You'll Ever Taste" and Men's Journal named it "One of the World's Best Bacons."
For Jurgens, the accolades simply reinforce that Vande Rose Farms is on the right path.
"This is an ideal place to farm, with ample grains and hard-working farm families that are dedicated to producing top-quality pork responsibly, humanely and in a manner respectful of the environment. That seems to be what the consumer wants, and we're glad to be able to provide it to them," he says.
You can find Vande Rose Farms bacon at Hy-Vee and Fareway stores throughout Iowa.
Return to
The Iowa Dish