Taking a breather for Mom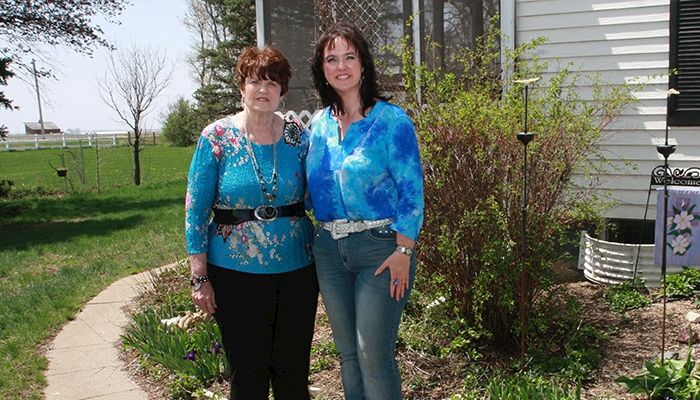 Few things can slow the planters rolling through Iowa's fields this time of year.
Mom can.
Earlier this week, I asked a few farmers to share their feelings about the "farm moms" in their lives. I was blown away by the responses I received! Check out their stories below.
I'd love to see your story as well! Please share thoughts about your mom (whether she's a "farm mom" or not) in the comments section at the bottom of this blog post.
Happy Mother's Day!
Mom Teaches Us Life Lessons
Darcy (Dougherty) Maulsby
farms in northwest Iowa, near Lake City. Her mom,
Janet
, doesn't claim to be a farmer, but she has raised two and has been married to one for nearly 43 years.
And she's taught Darcy plenty of enduring lessons about farming (and life):


Taking lunch to the field is the farmer's version of dining alfresco.


It's okay to say, "Oh, it's only a little mud."


Family weddings and special events are planned around spring planting and fall harvest.


City friends are impressed that your rock garden is hand-picked.


Going out for dinner may include a talk by a seed corn dealer or co-op agronomist.


Dinner is at noon and supper is in the evening. You get bonus points for preparing a meal that can be ready in six minutes and will still be ready two hours later.


Your nearest neighbor is in the next section, and you know what a section is.


Your family instantly becomes silent when the weather report comes on the news.


You refer to farms by who owned them 50 or more years ago, like "the old Robinson place."


There are few things more challenging and rewarding than living on an Iowa farm.
Mom Puts Family First
Randy Dreher
and his wife,
Crystal,
farm near Audubon in western Iowa.
"When spending long hours on the farm in the spring or fall with crops or livestock, it is nice to get a simple call from my wife seeing if/when I would be available for supper," said Randy. "We often get caught up with all the work that needs done during these busy times, but this simple gesture helps remind me of the importance of family, and the least I can do is try to stop and spend a small part of my busy day being a husband and father. A real highlight for me is when Crystal brings a meal or snack to the field along with our daughter, Katelyn. It is times like this that farming truly feels like a way of life for the entire family, as opposed to my everyday job."
Sara (Rebling) Adrian
and her siblings (Adam, Kristen and Alex) also credit their mom,
Karla
, with finding opportunities to spent time together as a family.
"Growing up I never realized how important everything was that we did together as a family, from picking and shelling peas from our garden to taking our supper to the field so we could eat together," said Sara, a farmer near Fairfield, in southeast Iowa. "Mom instilled in us at an early age that family was always number one. I love you, Mom!"
Mom Juggles Life
"What makes my mom (
Deb
) special, is her persistent effort to see the farm, and more importantly her family, succeed," said
Ben Bader
, who farms near Jesup, in eastern Iowa. "Taking care of my youngest brother, who has special needs, is a full time job in itself. However, Mom also finds time to teach pre-k while he is in school. Being a wife, mother of five children, and farming partner has kept my mom on her toes."
"The thing that's special about farm moms is their ability to multi-task," said
Larry Sailer
, who farms near Iowa Falls in central Iowa. "My mom (
Mary Ann
) raised seven kids with unique interests and personalities. My wife (
Janice
) has done the same with our five kids, all while getting chores and field work done. Plus farm moms put up with ornery old farmers worrying about weather, crops, livestock and prices. They're a special lot!"
Mom's Love Inspires Us
"When I think of our family operation on Mother's Day, I think of the dedication my wife (
Jennifer
) and my mother (
Barb
) give us and the farm throughout the year," said
Justin Dammann
, a farmer from Essex, in southwest Iowa. "Whether it's preparing meals throughout the day or doing the necessary documentation and farm office work and everything in between, they show their love and compassion for all of us and the operation every day in what they do. Their unconditional love for us and agriculture is what keeps us as a farm family operation moving in the right direction."
Mom is at Her Best when Times are Tough.
Colin Johnson's
grandmother,
Ada Fay
, was a source of strength for her family through good times and bad.
"Grandma was the stable farm partner anchoring us to the ground when things got hectic," said Colin, a farmer from Batavia, in southeast Iowa. "In addition to tending the farmstead, moving equipment, and managing the books, she was the glue that bound us together and the dinner bell that sustained us."
And when Colin's father battled Lou Gehrig's disease five years ago, Colin watched his grandmother rise to the challenge as well.
"She was a loving caregiver and an extraordinary mother while her son deteriorated and succumbed to the disease."
Even terminal cancer couldn't stop her from serving those she loved.
"Even in her last month and last days facing cancer, she was always serving others and placing them first. On Ada's farm, loving arms and a warm kitchen are always open to family, friends and former strangers."
By Zach Bader . Zach is Iowa Farm Bureau's Online Community Manager.