Take a tasty bite out of fall at Iowa's apple orchards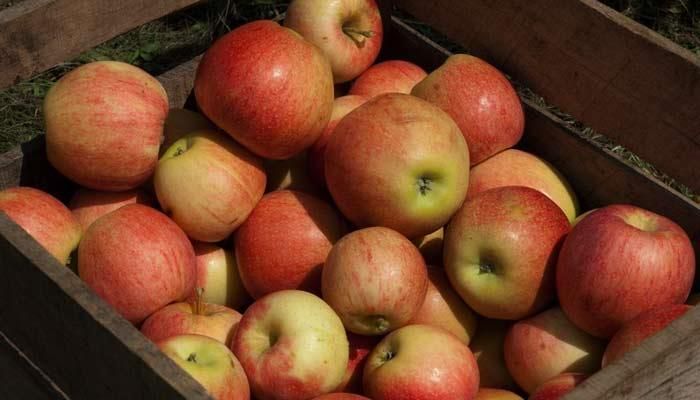 Last week, I swung by Center Grove Orchard near Cambridge to buy the first honeycrisp apples of the season. Each year I visit the orchard, I can't believe all the new additions to this popular agritourism destination.
When I first discovered the orchard about seven years ago, Farm Bureau member Steven Black and his family sold apples out of a renovated garage.
Now the orchard's farm store is at least three times bigger, with a coffee shop (moms and dads love their coffee!), a bakery, dozens of seasonal employees and, or course, a large selection of apple-related gifts and goodies.
Admittedly, I usually just swing by the farm store every couple weeks to stock up on honeycrisp apples and never wander into the farmyard, with all the games and attractions for kids.
But last fall, I joined my sister, brother-in-law and 2-year-old niece on their first visit to Center Grove Orchard. And I couldn't get over how much the orchard had grown. Seriously, it's like Disneyland in the middle of corn country.
A long line of families streamed through the gate - many dressed in wool sweaters, scarves and leather boots for fall photos - even though the weather was a little warm for bundling up that day.
We watched kids jump in the shallow corn kernel-filled "pool," ride pedal tractors, zip down the giant slide and climb into hayracks for a short trip to the pumpkin patch.
We ate hot dogs at a picnic table for lunch and devoured a half-dozen apple cider doughnuts for dessert.
It was a hoot to see my niece get dirty trying to pick up a pumpkin, which clearly weighed more than her, straight from the field.
Plus, I gained a new appreciation for the families that open up their farms, sometimes to thousands of guests on a perfect fall weekend, as agritourism destinations for all.
These farmers not only are creating lasting memories and new traditions for so many families. But at the heart of everything they do, farmers are also trying to educate Iowans about modern agriculture and how their food is grown and raised.
So plan a trip to a local apple orchard, pumpkin patch or corn maze this fall. And take the time to teach your kids a little bit more about agriculture while you're there. Don't be afraid to ask questions when you meet the farmers. They love talking about what they do!
To find an apple orchard or pumpkin patch near you, visit the Iowa Fruit and Vegetable Growers website:
http://www.ifvga.org/
.
By Teresa Bjork. Teresa is senior features writer at the Iowa Farm Bureau Federation
.