Squash your family's dinner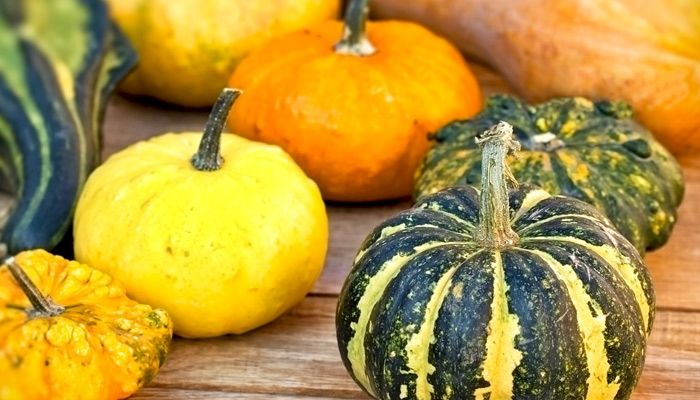 Is there a better, edible symbol of fall than the humble squash? Whether as a Halloween decoration for your doorstep or as a side dish to your family's favorite meatloaf, squash deserves our respect as the last vegetable plucked from Iowa gardens before winter sets in.
A few weeks ago, I took a day off work and visited the DeMoss family pumpkin patch, just north of Ames and west of Gilbert. My husband, who works in the area, suggested I check out their farm because he knows I like to bake pie every Thanksgiving using whole pumpkin, not pumpkin from a can. (That's right; I'm old school.) But it can be hard to find a good pie pumpkin at the grocery store.
So I followed the signs to the DeMoss family pumpkin patch on a rainy Wednesday morning. When I drove into their farmyard, Dick DeMoss was loading his truck for the Ames farmers' market later in the afternoon. I was embarrassed to bother him when he was busy, but he invited me to come inside the barn and see what he had to offer.
To my delight, I saw tables stacked full of squash in a variety of colors (orange, yellow or blue), shapes (round or tall) and sizes (baseball-sized to boulder-sized). I was thrilled to see he had a box full of pie pumpkins, which he said are very popular for baking.
When I asked about a tiny yellow-and-green-striped squash, DeMoss explained that it's a popular squash with local chefs because of its individual-serving size, which looks good on a plate.
"You just cook it in the microwave, cut it up and add your brown sugar and butter," he explained when I asked how to prepare it. Brown sugar and butter? Now that's my kind of vegetable!
I ended up grabbing about a dozen squashes and a jack 'o latern to take home. As I was paying for my bounty, DeMoss asked if I would like to see the cinnamon rolls his wife was baking for the Ames farmers' market.
He invited me into his home, where his wife, Letha, was working in the kitchen. Just that morning, she had baked several dozen loaves of pumpkin bread, which covered every available inch of counter space.
Letha DeMoss explained that she freezes the pie pumpkins at the end of the season to bake her famous pumpkin pecan bread. Her pumpkin bread is so sought-after that she sends it overseas to her son and his friends at a military base in Japan.
Of course, I couldn't walk out of her cinnamon-scented kitchen without buying a couple loaves of pumpkin bread. And DeMoss invited me to visit on a weekend, when his family hosts hay rack rides and bonfires on the farm.
Back home, my husband and I have prepared the squash just as DeMoss recommended – cooking it in the microwave, then adding a little brown sugar and butter. It's actually an easy side dish to make on a busy weeknight.
On the weekends, I like to experiment with new recipes I find on my favorite food blogs. Here are a few squash recipes I plan to try while we're watching the Vikings football games on Sunday afternoons:
- Acorn squash bisque from Eat, Live, Run (
http://eatliverun.com/just-when-you-thought-you-were-sick-of-squash/
)
- Butternut fries from Hungry Girl (
http://www.hungry-girl.com/girls/biteoutdetails.php?isid=2010
)
- Baked spaghetti squash with garlic and butter from Steamy Kitchen (
http://steamykitchen.com/11285-baked-spaghetti-squash-with-garlic-and-butter.html
)
- Butternut squash ravoli from Iowa Girl Eats (
http://iowagirleats.com/2009/11/06/how-to-bake-butternut-squash-butternut-squash-ravioli-recipe-2/
)
If you're interested in making your own pumpkin puree, check out this standard recipe (
http://allrecipes.com//Recipe/pumpkin-puree/Detail.aspx
).
Just a few tips: It can be tough to cut the rind of pie pumpkins, so be sure to use a good knife and proceed with caution. Also, I find that homemade pumpkin puree is more watery than canned pumpkin, so you may need to increase your cooking time or strain off some of the liquid before baking.
Written by Teresa Bjork
Teresa is a features Writer for the Iowa Farm Bureau.