Soles of honor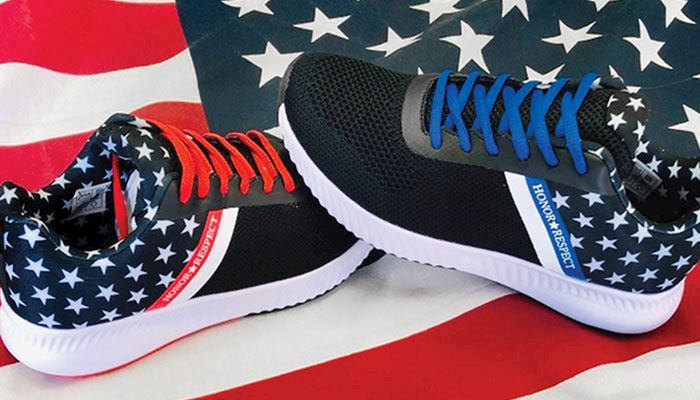 There isn't a cop on the beat that couldn't use a little Honor and Respect; or a fireman, paramedic or soldier in uniform.
And that's exactly what Ron Slagle wants to give them.
A 25-year veteran of the Marion Police Department and the U.S. Air Force, Slagle knows. He knows about stress and trauma. He knows about lending a helping hand.
It was last spring when he and friend Mike O'Donnell decided to design a patriotic athletic shoe and market it online to raise money for first responder mental health suicide awareness. Slagle is a high school athletic coach. He knows athletic shoes. O'Donnell is a business owner. He knows business.
"We thought we would sell enough to contribute around $5,000 to the cause then shut it down," says Slagle, a Farm Bureau member from Marion.
That's not what happened.
Word spread. Shoes started to sell. Slagle appeared on "Fox & Friends" on July 3, and things took off.
"Now we're renting warehouses and we hired an accountant and we are nearing the $1 million mark in gross sales," says Slagle.
Honor And Respect LLC sells athletic shoes, caps, T-shirts and accessories designed with a patriotic theme. Proceeds are channeled through Honor And Respect to Code 9 Heroes and Families United, Code 9 Project, Running 4 Heroes and Blue H.E.L.P. All are involved in first responder mental health and suicide prevention efforts.
In 2018, 159 police officers in the U.S. committed suicide. Ten of those were in New York City. One was in Cedar Rapids, where Slagle began his career.
The message hit home for Slagle this summer, when his policeman brother retired suddenly with 27.5 years on the force, claiming depression as the reason.
"We planned to both put in at least 30 years and then walk out the door together," says Slagle, who still wears his emotions on his sleeve.
"I didn't know," says Slagle. "Family is everything to us. He was a fellow officer. And I didn't know."
He says it is the nature of police, soldiers and first responders to keep such feeling close to the vest. "We don't want to talk about those types of things," he says. "It's how we're made."
The stars and stripes shoes come in both a red line and blue line model and run $59.99. Shirts run $12.99 for a basic tee to $29.99 for a hooded sweatshirt. The embroidery work is done in Cedar Rapids, and all apparel is made in Marion. You can order online at https://honor-respect.com/.
Right now, items are on backorder. More than 6,000 pairs of shoes were delivered in early November. The business will change its mode of operation to selling only "in stock" items before the holiday season so they can offer prompt delivery.
"We never ever thought this would explode the way it has," says Slagle. "We thought we would be doing good if we helped 12 people. It never occurred to us we could raise $1 million..."
"It just goes to show if you do something with love, you can make a difference." Slagle adds. "We wanted to draw attention to a dire problem. There is a way to help."
Queck-Matzie is a freelance writer from Greenfield.