Saturday at Kinnick: ANF Day and Black and Gold Spirit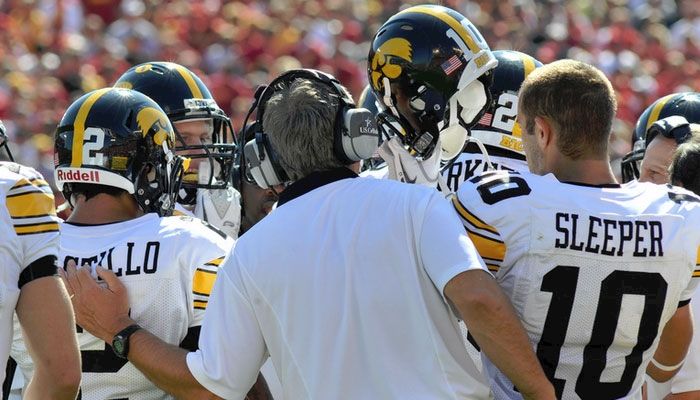 As part of the America Needs Farmers partnership announced in August between the Iowa Farm Bureau and the University of Iowa Athletics Department, the football game Saturday at historic Kinnick Stadium between the Iowa Hawkeyes and the Northwestern Wildcats has been designated "ANF Day at Kinnick."
The game, which will be televised live to a national television audience on the Big Ten Network at 6 p.m. CT, will feature a host of activities celebrating why America Needs Farmers, includinga pre-game autograph session with former Hawkeye stars Jared DeVries, Tim Dwight, Marv Cook, and Ed Podalak and Gary Dolphin, the voice of the Hawkeyes, at the Legend's Tent in the Krause Family Plaza located immediately south of the stadium.
Other activities include Tailgate Toss with ANF prizes and the UI's first stadium "card stunt," where all fans in the four grandstands of Kinnick Stadium will, on cue, hold up cards and deliver two designs and messages for the enjoyment of the 70,000 people in the stadium and the national television audience watching on BTN.
The cards stunt will be executed against a sea of black and gold. Saturday's game is also the second annual Black and Gold Spirit Game at which fans of the Hawkeyes who will be seated in even sections of Kinnick Stadium and the Mediacom Outdoor Club of the Paul W. Brechler Press Box are asked to wear GOLD to the game and fans seated in the odd sections of the stadium and all UI students in the student section are asked to wear BLACK.
"It promises to be a great night for fans of the Hawkeyes to show their school spirit and their appreciation of America's -- and Iowa's -- farmers and, of course, to show the their support for the Hawkeyes," said Rick Klatt, the UI's associate athletics director for external relations.
The state of Iowa is insulated against the worst of the nation's economic woes, thanks to the strength and influence of agriculture, according to a recent survey by Creighton University economists. "Farming has contributed 5,000 manufacturing jobs in this state over the past year and that's just one more reason why we want to share the good news of today's agriculture," said Iowa Farm Bureau Federation (IFBF) President, Craig Lang.
ANF was first launched in 1985 during the height of the Farm Crisis, by legendary Hawkeye coach Hayden Fry, who wanted to show an increasingly urban nation why agriculture matters. "Farming has seen many innovations since then, which bring more food and energy choices and job opportunities to a new generation," says Lang, a fifth-generation Brooklyn, Iowa dairy farmer. "Today's farming isn't just about feeding people; it's about innovation in renewable energy, medicine, building materials, diagnostic tools, and more which combine what we know with what we grow."
Iowa farmers lead the nation in what they grow. Just this week, the world celebrates the efficiency and sustainability of today's farmers through the 25th anniversary of the World Food Prize honoring another Iowa farmer, Norman Borlaug.
"In less than a generation, the world's population will need 100 percent more food than we are growing today on a finite amount of productive land. IFBF is always looking for ways to show consumers how we plan to do that, while maintaining the integrity of the land, water, and rural communities where our farmers raise their own children," said Lang.
Iowa farmers realize with an increasing number of consumers curious about innovations in farming and food production, they need to find ways to make farming more transparent.
Larry Sailer, a Hardin County Farm Bureau member who farms near Iowa Falls says, "Anything you can do to start a conversation with consumers about food and agriculture is good. We want to know what questions they have about what we do and why we do it. And in a high profile event, like an Iowa Hawkeye football game, it's literally a new way to show them this whole new playing field of modern agriculture."
For more information about the Iowa Farm Bureau/U of I ANF partnership and additional ANF Game Day activities or merchandise, click AmericaNeedsFarmers.org
About Iowa Farm Bureau
The Iowa Farm Bureau Federation is a grassroots, statewide organization dedicated to enhancing the People, Progress and Pride of Iowa. More than 153,000 families in Iowa are Farm Bureau members, working together to achieve farm and rural prosperity. For more information about Farm Bureau and agriculture, visit the online media center at.