Rolling through challenges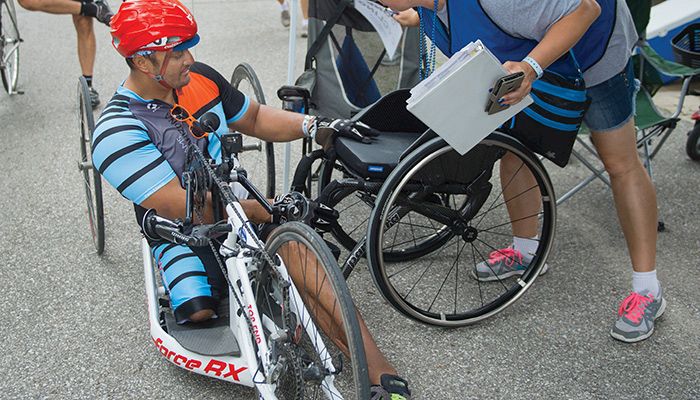 This summer, the Adaptive Sports Iowa cyclists gathered at 6:30 a.m. each day of the week-long RAGBRAI ride to embark on their trip as a team, no matter how long it would take for each individual to reach the end.
These morning team launches helped cement their new friendships as fellow RAGBRAI "survivors," while also creating more awareness of the strength and endurance of disabled athletes.
"A lot of people have never seen a handcycle, let alone seen six of them lined up in a draft line," said Mike Boone, executive director of Adaptive Sports Iowa.
"When those same handcyles are dipping their tires in the Mississippi River, and people are now making the connection of that individual just rode the entire state of Iowa with his or her arms, now all the sudden that definition of what we perceive as disability has changed. In reality, that individual has done something that the vast majority of people wouldn't have a prayer of doing," Boone added.
This summer, the Adaptive Sports Iowa (ASI) cycling team presented by the Iowa Farm Bureau included 80 registered riders, up from 55 riders last year, with athletes ranging in age from their teens to their 60s and representing 17 states.
The Adaptive Sports Iowa cycling team provides support for athletes with physical and vision disabilities, allowing them to compete in the annual Iowa cycling tradition. The Iowa Farm Bureau Federation is proud to support the hard work and accomplishments of the Adaptive Sports Iowa team as the group's title sponsor.
The cyclists, sporting jerseys and hats emblazoned with the hashtag #ASIfarmstrong, truly represented the "Farm Strong" values of hard work, commitment and perseverance. They climbed rolling hills, pedaled through thunderstorms and endured 90-plus degree temperatures during the week-long bike ride across northern Iowa in late July.
"We are very clear when someone registers for our team that this is an endurance event. We have the expectations that when they arrive, they are prepared and ready to participate," Boone says.
This year, the team included a visually impaired five-time Ironman triathlete, several military veterans and others who have turned to the sport of cycling as a way to increase their physical activity and improve their mobility.
Boone says the Adaptive Sports Iowa cycling team was started about seven years ago to help make RAGBRAI as accessible as possible for disabled athletes with specialized needs.
Adaptive Sports Iowa works with the host communities and volunteers to ensure that the cyclists have a climate-controlled overnight facility so they can recover before the next day's ride.
A van transports wheelchairs to the mid-day meeting towns so the cyclists can move about and take a break from their bikes. A nurse and a mechanic also travel with the team.
In addition, Adaptive Sports Iowa pairs up visually impaired cyclists with local "pilots," or a rider on the front of a tandem bike.
Adaptive Sports Iowa doesn't charge a user fee for any of the volunteers or participants who want to join the team. "We don't want a financial barrier to be what keeps them from doing RAGBRAI," Boone said.
"The vast majority of people on our team would not be doing RAGBRAI if it wasn't for the amenities and services we are able to provide, and that's been told to us many, many times (by the cyclists)," he added.
He said Iowa Farm Bureau's sponsorship has helped not only with the logistical costs, but also gives the team more visibility.
"I would say we are now one of the most recognizable brands on RAGBRAI just as a result of it. A lot of people see that logo and that connection with Farm Bureau," he said.
While the team's goal has always been to make RAGBRAI more accessible, Boone said what has surprised him the most is to see how the Adaptive Sports Iowa cyclists have impacted the culture of the annual event.
"The way we have been able to impact the event just from a disability standpoint, and what the abilities of someone with a disability really are, was not something we expected to do. But the way we have impacted the event, and the feedback we have gotten from riders, has been really humbling," Boone said.