Rock 'n Roll beats and eats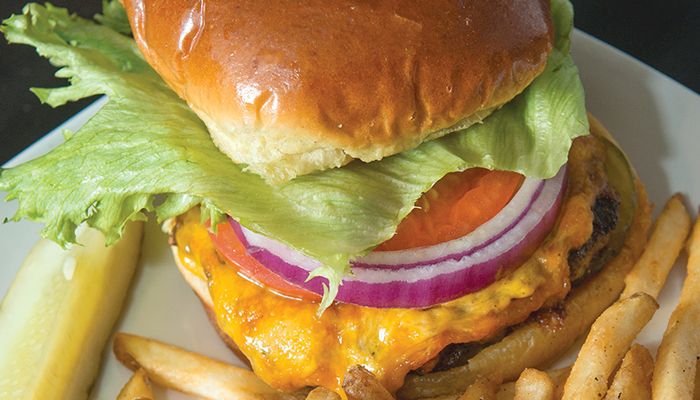 It's a few hours before opening at the Surf District Rock 'n Roll Grill in Clear Lake, but already the place is buzzing with music.
Vintage music videos of long-haired '80s rockers pulse on the screens above the bar and the theater-style booths. Autographed guitars are lit up and on display along the walls. The stage lights flash on, illuminating the drum set and a black-and-white mural of music greats, including legendary rocker Buddy Holly, who played his last concert next door at the Surf Ballroom.
Surf District owner Grant Maulsby was expecting an upbeat crowd to start bopping through the doors last month during the Winter Dance Party at the neighboring Surf Ballroom.
A week earlier, the Surf hosted a concert with rising country star Chris Jansen, and Maulsby said the restaurant was packed before and after the show.
"We moved all the tables to make a dance floor and turned up the country music. It was great," Maulsby said.
Surf District Rock 'n Roll Grill has only been open a couple months, but it already has earned buzz as a must-see destination for Clear Lake vacationers, including RAGBRAI cyclists who will roll through town later this summer.
Maulsby, a music lover and frequent concert-goer, said he wanted to open a restaurant modeled after the Hard Rock Café, but with a one-of-a-kind tie to the famous Surf Ballroom in Clear Lake.
The Surf is where rockers Buddy Holly, Richie Valens and the Big Bopper played their last concert in 1959 before they died in a plane crash in nearby Mason City.
Maulsby, a Mason City native, said he's always been a huge fan of the Surf Ballroom and its history. He first purchased the restaurant next to the Surf back in 2001.
Yet Maulsby had a bigger vision for what the restaurant, which was previously a steakhouse, could be. He pitched the idea of a music-themed restaurant to the non-profit Surf Ballroom and Museum board. "They were excited about being a part of it," he said.
The Surf Ballroom board approved a licensing agreement that allows Maulsby to use the Surf's name at the restaurant.
The board members, who Maulsby said have incredible at­tention to detail, also helped design the interior of the restaurant to match the style of the Surf Ballroom.
The restaurant features two levels of booths, a round stage, concert-style lighting and a music system that plays non-stop music videos with more than 40 always-changing playlists.
The Surf also loaned memorabilia to display on the restaurant's walls and stage. It turns out, the Surf has a storage facility full of memorabilia from musicians who have played on stage, but ran out of room to display the items in the ballroom.
Maulsby said his favorite items are blues legend B.B. King's autographed guitar and the hat worn on stage by former Guns N Roses guitarist Slash. The Surf is also helping bring up-and-coming musicians to the restaurant's stage to expand Clear Lake's already enviable reputation as a music-lovers destination.
"Being able to work with the Surf has been a blessing for me, because I love the Surf. I go to every concert they have. They collaborated with me on this whole project, and they've done a great job," Maulsby said.
"Everything in here is something that came from the Surf. That's what makes it special and unique to Clear Lake. No one can replicate what we do here. It's the only one," Maulsby added.
In addition to the music, Maulsby said he wanted to make sure the food and drinks at Surf District Rock 'n Roll Grill are just as unique as the atmosphere.
Many of the menu items are Surf-inspired. The La Bamba flatbread is topped with avocado, chicken and jalapenos. The Surf Burger features Iowa premium beef with Wisconsin cheddar cheese and "boom boom" sauce.
And customers love to dig into the Wisconsin cheese curd burger, topped with fried cheese curds, and the bacon mac-n-cheeseburger, with bacon mac, cheddar cheese and fried bacon on a pretzel bun.
"Everything is Iowa-grown beef," Maulsby said. "Just like with our local beer (on tap), we really want to support Iowa. It's important to us. And I think, Iowa beef, you won't get any better beef than what you get here in Iowa."
Popular appetizers include the pret­zel bites served with homemade beer cheese, made with Lake Time Brewery beer from Clear Lake.
"The flavor (of the beer) changes every week or two weeks. It's a unique thing that we get from them, and it keeps it local," said Chef Michael Holmes, a North Iowa native who heads up the kitchen.
Holmes said the Surf District's chick­en wings also stand out from typical bar food. "We fry them, bake them, glaze them, grill them and then re-glaze them. The grilling really gives them a unique flavor," Holmes said.
Maulsby credited the kitchen crew and wait staff, who came dressed in poodle skirts for the Winter Dance Party and cowboy boots for the country concert, for amping up the fun at Surf District Rock 'n Roll Grill.
"I'm just really proud of everyone. They are doing a great job. We wanted a unique menu that no one else really had. Our whole theme is to be energetic with the music and the food," said Maulsby, tapping his foot to the music videos playing on the screens.