Roads not great for bikes, worse for Iowa's economy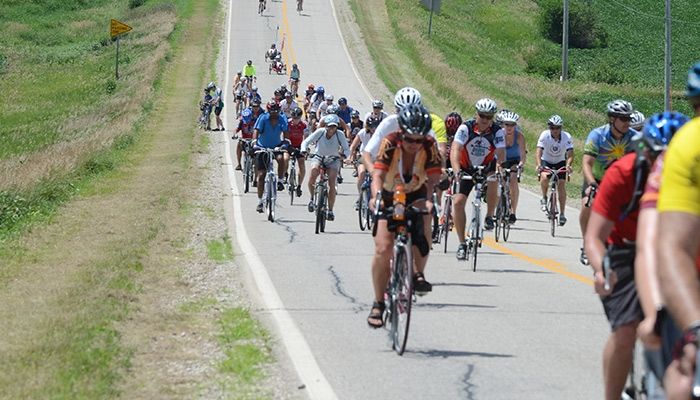 I got on my bicycle and rode four days of RAGBRAI this year. It was a great time, despite a little rain in Bremer County and very sore backside by the time I dipped my front tire in the Mississippi River at Guttenberg.

RAGBRAI really highlights so many of the great things about Iowa. Riders enjoyed a full-frame view of the beautiful Iowa countryside (which my legs can verify is definitely not flat — no matter what some non-Iowans still believe). They saw every size and type of farm and, maybe best of all, they experienced the famous small-town Iowa hospitality.

About the only disappointment was the condition of many of the rural roads and bridges we rode over.

It definitely underscored for me the importance of improving Iowa's rural transportation infrastructure. It also verified that an increase in the state's fuel tax is the fairest way to raise the additional funding, approximately $215 million per year that Iowa needs to adequately care for its roads and bridges.

When you are bumping along on a bike, you really get a feel for how much work is needed. For every good road we saw on RAGBRAI, it seemed like there were two or three that were beaten up, rutted and full of cracks. And many of the bridges looked like something out of the era when most bikes had fenders and cars sported tailfins.

Of course, it's not important to repair roads and bridges for a bike ride, even one as big as RAGBRAI. But improving roads and bridges is critical for Iowa farmers, small-town businesses and the entire rural economy.

Iowa has not increased its fuel gasoline tax since 1989, maybe not the tailfin era, but a time when repairing roads and bridges was significantly cheaper. The dire need for road repairs, and the lack of funding, has prompted some counties to borrow money and issue bonds to pay for infrastructure. That's a dangerous trend which will put more pressure on property taxpayers, because they are the ones on the hook for the debt.

The bottom line: An increase in the gasoline tax is the fairest way to assure that everyone who uses the roads pays their share.

That includes people from other states who likely crossed Iowa to get to the starting point or finish line of RAGBRAI. It just makes sense that they pay their fair share for infrastructure upkeep.

By Dirck Steimel. Dirck is Iowa Farm Bureau News Services manager and editor of the Iowa Farm Bureau Spokesman.