Rediscover the joy of home cooking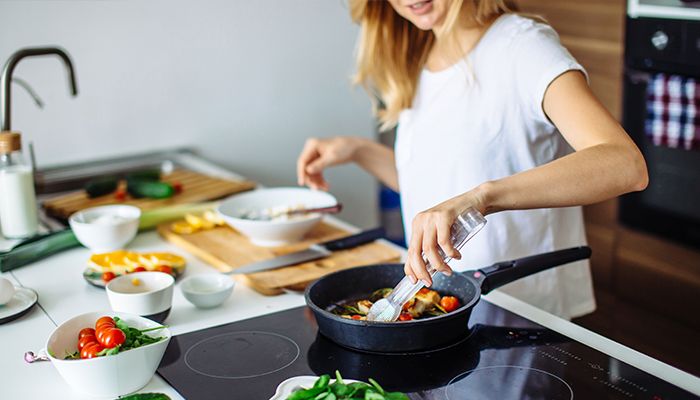 Home cooking is a pandemic-era trend that many marketers say is here to stay as people rediscover the joys of cooking and sharing meals in the comfort of our own kitchens and backyards.
After the pandemic ends, 92% of families plan to continue eating together at home at least as often as — or more often than — they do now, according to a recent survey by marketing firm Acosta.
And with more people cooking at home, retailers report they are seeing increased demand for home appliances and for small appliances, like air fryers, grills/smokers and coffeemakers.
Meanwhile, retail meat demand is soaring, according to the American Farm Bureau Federation, as more families prepare meals from their own kitchens and backyard grills.
In particular, Americans are searching online for comfort food recipes, including for roasts, smoked meats, pizzas, soups and stews.
Home cooks are also experimenting with budget-friendly cuts of meat.
At the 2021 Iowa State Fair, the winner of Iowa Farm Bureau's Cookout Contest, Rawshan Parker of Boone, wowed the judges with his Picanha steaks, a rump beef cut that's popular in Brazil.
"I wrapped my beef in tallow and just let it rest. I take my time and focus on not getting in a hurry," Parker told the Iowa Farm Bureau Spokesman newspaper.
Parker said he perfected his beef recipe after long hours smoking meat in his garage, after his kids were in bed asleep.
And with kids back in school and the upcoming holiday season, we're all thinking more about how to support a healthy immune system by eating nutrient-rich foods like real meat and poultry.
Animal-based proteins, including real beef and pork, are good sources of zinc, iron and B vitamins, which support a healthy immune system.
Plus, fall is a great time to take advantage of specials at the meat counter whether you're tailgating or making a big pot of chili.
Follow the lead of this year's Cookout Champion, and experiment with budget cuts of meat, such as roasts or chicken hindquarters — perhaps using your new backyard smoker or Air Fryer.
Or check out a few of my favorite online recipe ideas for easy, budget-friendly meals:
You can find real meat recipes from Iowa Farm Bur­eau members online at www.iowafarmbureau.com/News/The-Iowa-Dish.

Return to The Iowa Dish