Recipe: Red, white and blue fruit salad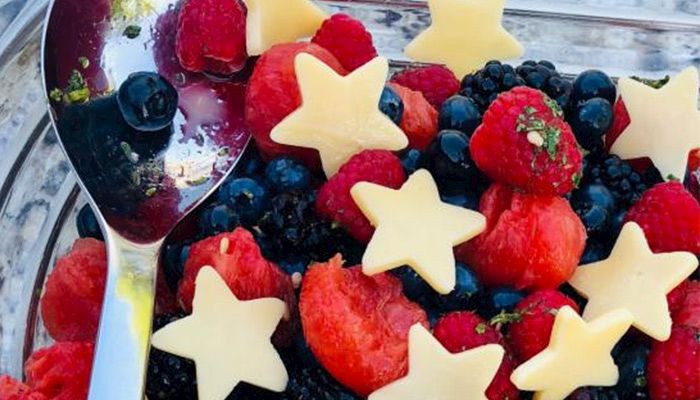 Honey-lime dressing:
1/4 cup honey
2 tablespoons lime juice
1 teaspoon lime zest
1/4 cup minced fresh mint
Fruit salad:
15 ounces fontina cheese
3 cups watermelon, cut into balls
3 cups blueberries
1 cup blackberries
Fresh mint, optional
Whisk the honey, lime juice and lime zest in a small bowl. Stir in mint; set aside.
Cut fontina into 1/2-inch thick slices, each about 2-inches wide. Cut fontina slices with a 1-1/2-inch star cookie cutter, using the handle of a small spoon to press and release cheese from cutter at star points.
Combine watermelon and berries in a large serving bowl. Top with fontina. Drizzle with reserved dressing just before serving; gently toss salad to coat. Garnish with mint if desired.

Return to The Iowa Dish