Recipe: Hot and sweet grilled cheese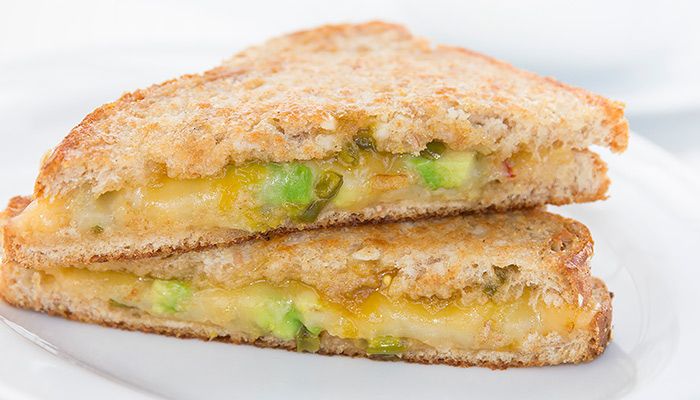 Ingredients
For peach jalapeno jam:
- 3 tablespoons peach preserves
- 1/2 fresh jalapeno, seeded and finely chopped (about 2 teaspoons)

For sandwiches:
- 1-1/2 tablespoons unsalted butter softened
- 4 slices 12-grain bread
- 2 slices white Cheddar cheese
- 2 slices Pepper Jack cheese
- 2 slices smoked Gouda cheese
- 1/2 small avocado, thinly sliced
Directions
For peach jalapeno jam, combine peach preserves and jalapeno in a small saucepan over medium heat. Stir mixture constantly until the preserves are melted. Remove from heat and set aside.
For sandwiches, preheat a large nonstick or cast iron skillet over medium heat for about 2 minutes. Butter one side each of two slices of bread. Turn buttered slices over, buttered side down, and spread jam over the second side of each bread slice. On top of jam side of each bread slice, layer one slice of white Cheddar cheese, one slice of Pepper Jack cheese, half the slices of avocado and one slice of smoked Gouda cheese. Spread jam on the two remaining slices of bread, and place jam side onto the cheese. Spread remainder of butter on bread on top of sandwiches.
Place sandwiches buttered side down in preheated pan. Partially cover with a lid, allowing steam to escape, and cook for 1-1/2 to 2 minutes or until bread is toasted and browned. Flip sandwiches over with a spatula. Partially cover with a lid, and cook for an additional 1-1/2 to 2 minutes, watching carefully for the bread to brown and the cheese to melt. Remove lid, and check for doneness. Remove sandwiches from heat, and cut in half. Serve warm.
Return to
The Iowa Dish