Piece by piece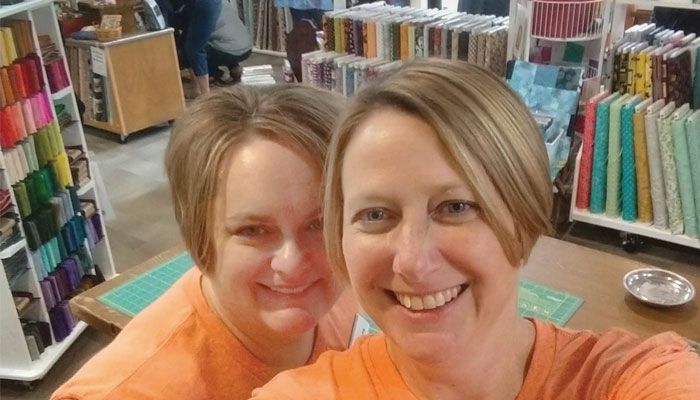 Off The Rails Quilting in Bondurant has seen an uptick in business as more Iowans dust off their sewing machines to make masks.
Quilting is a true Iowa art form. Pioneer women looking to use even the smallest bits of fabric scraps found a means of artistic expression that has retained its popularity through the generations.
Quilters today still use fabric shapes, textures, patterns and creative stitchery to create works of art ranging from wall hangings and accent pieces to full sized bed quilts.
But quilting isn't a solitary process. Just as in its early forms, when neighborhood women gathered in quilting bees to share the latest recipes and gossip, quilters still cluster — personally and virtually — to find social solace in the quilting culture.
In central Iowa, the place to go for both social fulfillment and quilting supplies and ideas is Off The Rails Quilting in Bondurant.
Friends Ann Van Thomme and Jenny Gruenwald opened Off The Rails Quilting in 2016 after being quilting friends for several years.
"There are two types of quilters," says Van Thomme. "Some are artists. They're into colors, design and how they work together. Some are in it for the social connection. That's me. I'm not a perfectionist. I like the community."
"I like the progression," says Gruen­wald. "I like the cutting things apart and putting them together. Sometimes it works. Sometimes it doesn't. But the process fascinates me."
Off the Rails Quilting has something for all types.
In addition to a wide array of fabrics, they offer quilting supplies, books and patterns, backing fabric up to 3 yards wide, and project kits.
"This time of year especially, we sell a lot of kits," says Gruenwald. "People are making gifts." The kits contain everything a person needs to complete the project and are ideal for the more inexperienced quilter, or for those who don't quite trust their own imagination.
This year, COVID has added to the demand. "A lot of people dug their sewing machine out of the closet to make masks," says Van Thomme. "So as long as it's out, they might as well make Christmas gifts."
COVID has brought other changes, like turning the 40-foot classroom addition they built on the back of the store when they opened into an online sales warehouse and shipping area.
"Our business did a complete 180," says Van Thomme.
Every weekday at approximately 12:15 p.m., Off The Rails Quilting broadcasts Lunch Brunch Live, a live Facebook session covering the latest in quilting techniques and tools.
"There's always a new tool or a new trick," says Gruenwald. Using Facebook's CommentSold feature, guests can immediately order the product of the day via the Facebook comment section. "In short, they buy whatever Ann is talking about. It's really amazing the response we get." Most of the allotted session "seats" fill up each day.
In addition to sharing fabric, techniques and design ideas, sessions cover sewing machine maintenance, fabric storage tips, sewing room design, and every Wednesday is "What's new at the shop" day.
They also recently used Facebook to broadcast live as part of the Great Wisconsin Quilt Show, held virtually this year.
They've noticed a difference in customer demographics in the past few years. Once the domain of the over 50 crowd, younger quilters are discovering the art as crafting and homemade gifts increase in popularity. Old patterns are still popular, though many new quilters favor making the blocks larger so the quilts go together faster.
"They're redesigning things and modernizing designs," says Gruen­wald. Machine quilting is the most preferred method of today's quilter, though some still like to quilt by hand.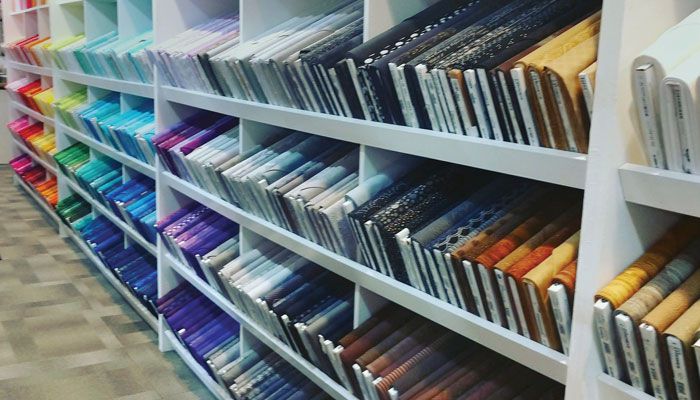 (Photo above: Quilting fabrics in a rainbow of colors greet customers at Off the Rails Quilting in Bondurant. The quilt shop also sells sewing machines for all skill levels.)
Off The Rails Quilting is a Janome dealer, offering sewing machines and accessories from basic mach­ines to high-end embroidery.
The doors are still open at the store as well — with a few COVID restrictions. A maximum of eight shoppers are allowed in the store at one time, with all shoppers and staff wearing masks. Social distance is defined in terms quilters will understand — 2 yards of fabric between people.
Ann and Jenny are confident people will find Bondurant as attractive as they did. The old Main Street section of town includes a bike trail, brewery, pub and sandwich establishment, a coffee and ice cream shop, and a home décor store.
"We're nestled between a bike trail and a brewery," says Van Thomme. "That has to be a good thing. People coming for those things will find us, and people coming to the quilt shop will find plenty else to do while they're here."
It was during a visit to the brewery with their husbands that the two Ankeny residents spotted a building for sale and solidified an idea they had kicked around for years.
"Our husbands may or may not regret taking us to the brewery that night," says Gruenwald. The store name is derived from the husbands' description of their idea — Off The Rails.
Bondurant is a growing community and located within easy distance of the Des Moines and Ames areas. Off The Rails Quilting pulls in people passing through on Interstates 80 and 35 as well. And then, of course, there are the serious quilters who will travel nearly anywhere for a good quilt shop.
In non-COVID times, they host shopping bus tours and conduct on-site quilting classes.
"Our biggest goal is to be everybody's happy place," says Van Thomme. "Whether they come to shop, or just need people. We're here in whatever form works."
Off The Rails Quilting is located at 15 Main St. SE in Bondurant. The store is open Monday-Saturday. You can join in Lunch Brunch Live at
facebook.com/offtherailsquilting/
or shop online at offtherailsquilting.com.
Queck-Matzie is a freelance writer from Greenfield.