One scoop or two? Celebrate Ice Cream Month in Iowa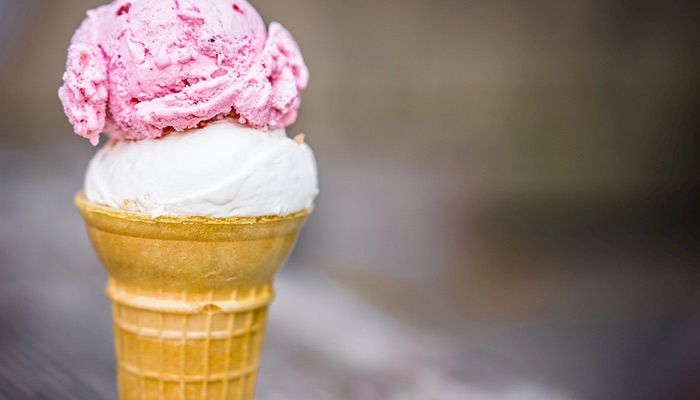 What do you love about summertime in Iowa? Camping trips? Baseball games? Lazy days at the pool?
Personally, I love taking a leisurely stroll to our neighborhood ice cream shop while it's open for the season.
Like many fellow Iowans, I have happy childhood memories of trips to our hometown drive-in restaurant. On a hot summer evening, you could find our family sitting at the wooden picnic table outside the walk-up window. My little sister and I would get a "brain freeze" trying to eat the cones before the melting soft-serve dripped down our arms.
My love of ice cream has only grown now that I've had the opportunity to visit many dairy farms across the state.
Dairy farmers, seriously, are the hardest-working people I know. They work incredibly long hours, usually functioning on just a few hours of sleep (they must wake long before sunrise to milk the cows), to supply the milk that is the main ingredient for my favorite summertime treat.
Just recently, I learned that July is National Ice Cream Month. I ask you, how could such a momentous occasion not be marked on every calendar? There should be parades of ice cream trucks rolling through the streets, their chimes ringing proudly for all to hear.
To celebrate National Ice Cream Month, I'd like to share my top 3 favorite Iowa ice cream shops. I have to admit, when I'm on the road, I sometimes drive a few miles out of my way to stop for ice cream. (What can I say? I have a soft spot for soft-serve.)
-
Moo Roo, Waterloo
– Farm Bureau members Jay and Jeanne Hansen and their four sons opened Moo Roo to sell homemade ice cream straight from the family's dairy farm. The Hansens have decorated the ice cream shop with photos of their farm and their growing grandkids. And their ice cream is out-of-this-world good. A top seller is butter pecan. My favorite flavor: Cake batter. You must order a homemade waffle cone. You'll thank me later. You can find them online at
www.hansendairy.com/Site/Moo_Roo.html
.
-
Blue Bunny Visitors Center, Le Mars
– There's a reason why Le Mars is known as the "Ice Cream Capital of the World." Blue Bunny ice cream is sold internationally, but the company still makes its ice cream in Le Mars and buys its milk from northwest Iowa dairy farmers. Blue Bunny's Visitors Center features an old-fashioned soda shop offering the biggest scoops of ice cream you've ever seen. My favorite flavor: Bunny Tracks – with swirls of caramel, fudge and chocolate-covered peanut butter bunnies. It's heaven on a cone. You can learn more at
www.wellsdairy.com/visitorcenter.aspx
.
-
Birdsall Ice Cream
, Mason City – A sentimental favorite. My grandparents would take our family out to Sunday trips to Birdsall's. Today, the shop still looks the same as I remember – the red-and-white stripped awning out front, the metal ice-cream scoops, a line of customers on a hot summer day. My favorite flavor: A tie between peppermint candy and chippermint. But in the summer, Birdsall's seasonal peach ice cream is a must-try. For information and locations, go to the city's chamber of commerce website at
http://business.masoncityia.com/list/Member/birdsall-s-ice-cream-mason-city.htm
.
So tell us, what's your favorite ice cream shop in Iowa? I would love to add a new favorite to the list.
Written by Teresa Bjork
Teresa is a features Writer for the Iowa Farm Bureau.