No-coast Iowa shrimp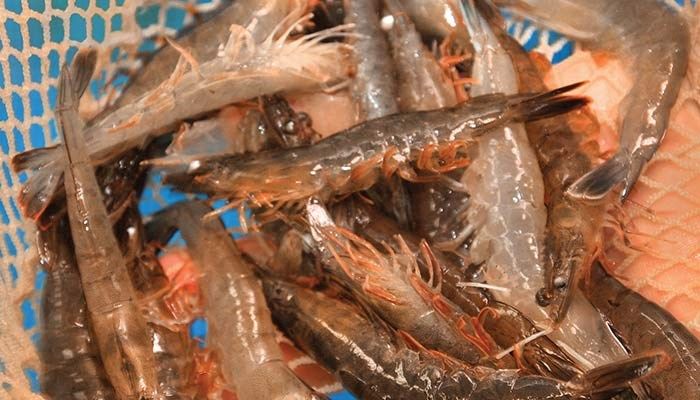 Where do you find some of freshest seafood in Iowa? It's elementary, my dear.
"We raise shrimp in my former kindergarten room and lunch room," said Jeff Ryan, who runs Sherlock Shrimp with his wife, Sherill, at the Ridgeway elementary school he attended almost 40 years ago. "The building brings back a lot of memories for people who grew up in this area."
Now Sherlock Shrimp is creating new memories for customers seeking a unique taste of Iowa. Some come to Ridgeway, population 30, to buy live Pacific white shrimp year-round at the school.
Others stop by destinations like La Rana Bistro to enjoy Sherlock Shrimp in a variety of menu items and specials. Located in the heart of Decorah, La Rana Bistro offers Grilled Shrimp Bruschetta, a tantalizing appetizer featuring Sherlock Shrimp, capers, garlic, fresh herbs and lemon aioli.
"We try to buy fresh, local food," said Mike Ryan, a cook at La Rana. "We like to try new things like Sherlock Shrimp, which is a really good product. We also like how they have repurposed an old school building."
The idea for the shrimp farm came from a December 2013 article in the Waterloo-Cedar Falls Courier that caught Sherill Ryan's eye. The story described an innovative, new shrimp farm that was making waves in eastern Iowa.
"I immediately became intrigued and started researching the possibilities," said Ryan, who spent nearly 24 years of her career as a registered nurse. "With my science background, the chemistry and biology aspects of shrimp production appealed to me."
The Ryans did their homework before they took the plunge, however. "We sent a survey to grocery stores and restaurants within a 60-mile radius of Ridgeway to see what interest there might be in buying locally grown shrimp," said Jeff Ryan, whose family has farmed in the area since the 1850s. "The response was positive, so we moved ahead."
The Ryans paid $15,000 in 2014 for the Ridgeway elementary school, which was built in the early 1960s but was closed a number of years ago. The building was structurally sound and provided plenty of usable space once some walls were removed, the electrical system was upgraded, a generator was added and other renovations were completed.
Today, a hallway functions as a feed shed, while former classrooms, the lunch room and gymnasium have been transformed into a living laboratory. Thousands of shrimp grow in nearly 40 tanks, which range in size from 12 feet to 15 feet in diameter. The tanks are heated to 85 degrees Fahrenheit, said Sherill Ryan, who added that the rooms are kept fairly dim to mimic the ocean.
The shrimp start off no bigger than a pinhead when they arrive via FedEx in plastic foam coolers from a shrimp operation in the Florida Keys. It takes four and a half months to grow a shrimp to market weight (around 20 grams).
Shrimp production is a fascinating — and sometimes frustrating — business. "It can be a steep learning curve, especially with young shrimp," said Sherill Ryan, whose team monitors water quality daily and checks dissolved oxygen, pH, ammonia, nitrates and more. "We were blessed to connect early on with Rod McNeil, a world-renowned shrimp farming consultant, who has been a tremendous resource."
Sherill Ryan also appreciates her one full-time employee and part-time employees, who free up her husband to manage the family's corn, hay and cow-calf operation. The crew also ensures that Sherlock Shrimp has shrimp for sale each week. "We invite customers to post pictures of their shrimp dishes on Facebook and love seeing what they come up with, from New Orleans barbecue shrimp to shrimp scampi," she said.
The Ryans are currently working to form a cooperative of shrimp producers in Iowa, Minnesota and Wisconsin to help the industry grow in the region. Shrimp is the number-one selling seafood in the world, said Sherrill Ryan, who believes it offers a unique opportunity for a state defined by farming and food production. "Iowa is known for corn and soybeans. Why not shrimp?"
For more information about Sherlock Shrimp, visit www.sherlockshrimp.com, or call 563-379-0514.
Maulsby is a freelance writer from Lake City.
Return to
The Iowa Dish
.