Movies under the stars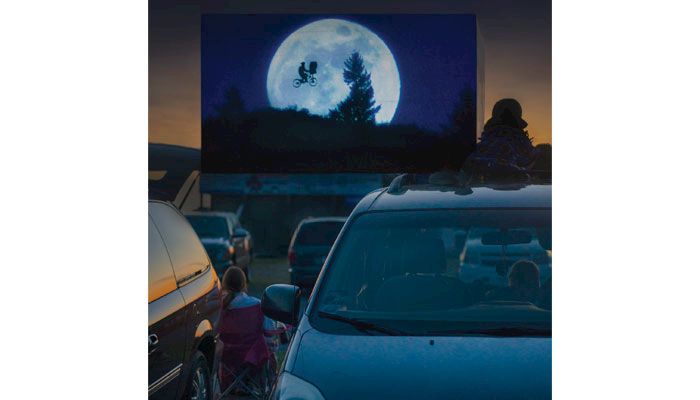 In our summer of social distancing, Iowa's drive-in movie theaters provide much-needed entertainment.
A warm summer night, the flicker of the big screen, the scratchy sound of a metal speaker clipped to the car window. Does this conjure up fond memories from your youth?
They don't have to be memories (except for maybe the scratchy sound). Drive-in movies are making a comeback in the age of social distancing, providing affordable, outdoor, well-distanced entertainment for folks of all ages.
"It's a great family outing ...," says Randy Lorenz, owner/operator of Blue Grass Drive-In in Blue Grass, near the Quad Cities. "We're reaching a whole new generation."
Blue Grass Drive-In opened for the season the second week in May (a typical season runs March through October), and Lorenz says he has seen hearty crowds since. Many shows have been at or near capacity allowed under the state's distancing guidelines. "Normally, we would pack more in, but now, with people spaced out, we've had to turn some away on some nights," says Lorenz.
Lorenz built the drive-in in 2014 as a project for his future retirement. Seeing other facilities seldom near capacity, with room for 400 to 500 cars for a single screen on valuable real estate, he took a different approach.
He installed three screens for 150 cars each, making use of land and offering programming variety and flexibility. Blue Grass Drive-In generally shows feature films on two screens, with the third a family-oriented attraction. All are new releases.
Blue Grass Drive-in is open every night of the week with double features each night with movies like "The Hunt," "Invisible Man," "Vast of Night," "We Summon the Darkness," "Trolls World Tour" and "Sonic the Hedge Hog."
If you get there early enough, you can park next to your friends, pull out the lawn chairs and make a social distanced party of it. A family-style party, that is. No alcohol or smoking is allowed on the premises.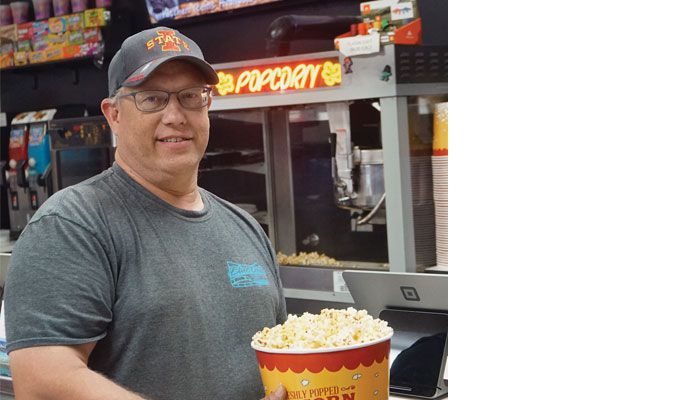 "We are a family environment," says Lorenz. They offer birthday packages and group rates. You can buy your tickets in advance online, but that won't reserve a specific parking space.
There is plenty to do to kill time before the show starts. Lorenz has a miniature golf course, playground and giant slide on grounds. Bag boards are coming soon.
As for the sound, well, that is better than it used to be. Movie audio now comes into your car through your car radio via an FM transmitter.
"The sound is as good as your car stereo," explains Lorenz. If that isn't as good as you would like it to be, or if you don't want to sit in your car, the drive-in will rent you a radio for $5. Lawn chairs and blankets are also available for rent.
Lorenz also provides another valuable service — he jump-starts four to five cars a night.
Blue Grass Drive-In offers a full service concession stand. Providing concessions has proved to be one of the greatest COVID-19 challenges.
"When we were getting ready for the season, none of us knew where this was going," says Lorenz. At the very least, they knew people would be shy of enclosed spaces and need to stay 6 feet apart outside.
They now have staff that monitor how many people enter the concession area and restrooms at one time.
An online ordering option was already in place, allowing moviegoers to place their order for easy pick-up. Now, those who choose to order in person can place their order, exit through a different door and wait outside for a text telling them it is ready. "It means they don't have to stand inside and wait," says Lorenz.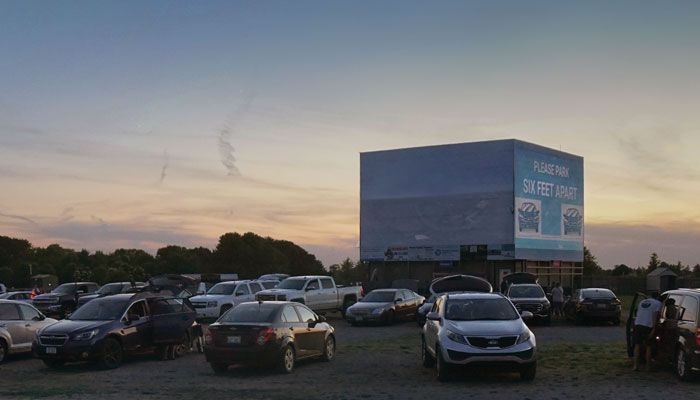 Lorenz has not only seen re­­surgence in interest in drive-in movies, the facility has become a popular spot for private parties, corporate events and live entertainment.
"There's a lot of interest and people thinking outside the box," says Lorenz. And he is one of them.
The entire drive-in is booked for an upcoming wedding.
The local Chamber of Commerce held its annual event there, as did the United Way of the Quad Cities.
A live comedian is booked, and he's been in touch with concert promoters and churches.
A local dance studio, needing a 1,000-seat capacity, recorded performances and broadcast them on the three screens according to dancer age group.
They had hoped to hold video graduation exercises, but the rules were still unclear at the time.
"The drive-in lends itself to all of those types of shows," says Lorenz. "It's outside. People can social distance. The audio and visual capabilities can enhance any type of performance."
At one time, there were five drive-ins in the Quad Cities and 7,000 in the U.S. Only a handful now remain in Iowa.
As indoor theaters were built, moviegoers preferred the comfortable environment and air conditioning to the view from their car. Distributors often left drive-ins with only B movies.
"That has changed," says Lorenz. "They no longer see us as a competitive threat, so we get new movies the weekend they are released."
He says they are seeing a lot of new people who have never been to the drive-in before, and according to Facebook reviews and personal testimonies, they like the experience.
"People are finding they can have a good time outside at the drive-in," says Lorenz. "They can relax and enjoy the whole evening with friends and family, and not have to be in and out in an hour and 45 minutes with no talking to each other. It's great summer fun, just like it always has been."
Queck-Matzie is a freelance writer from Greenfield.