Monarch counts soar in 2019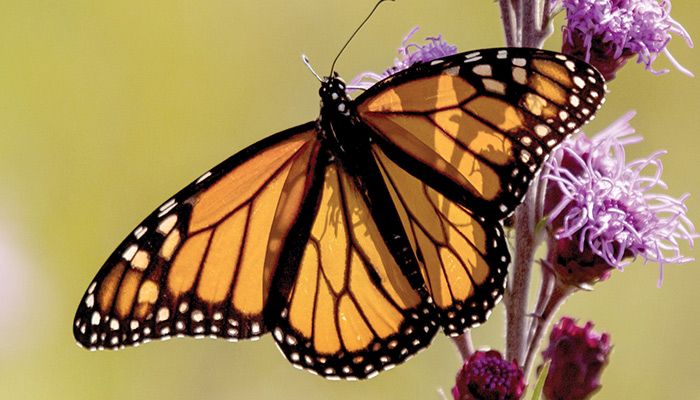 One of Iowans' favorite signs of spring, the iconic monarch butterfly, is also showing early signs of growth and recovery.
This winter, monarch butterfly counts in their overwintering habitat increased, according to the World Wildlife Fund. Monarchs covered approximately 15 acres of forest canopy in Mexico, a doubling of last year's population and a level not seen since 10 years ago.
The uptick in monarch counts provides hope, say leaders of the Iowa Monarch Conservation Consortium.
Each sign of progress in protecting monarch butterflies is a move in the right direction, says Dana Schweitzer, program coordinator for the Iowa Monarch Conservation Consortium, based at Iowa State University (ISU).
"It's really heartening to see what we would consider good (monarch) numbers," Schweitzer says. "We want folks to pause for a moment and appreciate all that is possible to sustain that population over time."
However, work here in Iowa is far from done, Schweitzer says. Monarch conservation requires a long-term, collaborative effort by all Iowans to benefit the monarch population, she says.
Iowa is an important habitat zone for monarch butterflies, particularly in the summer, when the butterflies breed and feed, Schweitzer explains.
Yet monarch butterflies face many challenges, including the loss of milkweed and nectar plant habitat. Female monarchs lay eggs exclusively on milkweed plants. National and state efforts focus on establishment of new milkweed habitat to reach conservation goals.
The Iowa Monarch Conservation Consortium, launched in 2015, is a community-led initiative with a goal to enhance monarch habitat in the state through collaborative efforts of farmers, citizens and organizations.
The Iowa Farm Bureau is one of 50 member organizations - including utility providers, agribusiness, farmers, conservation groups and universities – that support the research and outreach of the Iowa Monarch Conservation Consortium.
Schweitzer says the consortium is working to gain a better understanding of the best available science to support monarch butterflies and other pollinators.
Monarch habitat in Iowa continues to increase, in part because of voluntary efforts and federal incentive programs that encourage pollinator-habitat planting, Schweitzer says.
There is also more interest from farmers and landowners in planting habitat to support monarchs and other wildlife, Schweitzer says.
She noted that at last year's Farm Progress Show in Boone, several farmers stopped by the consortium's exhibit booth to ask questions about establishing pollinator habitat and to share how they have already planted pollinator habitat.
The Iowa Monarch Conservation Consortium is also working with the Iowa Pork Producers Association on a project to plant pollinator habitat next to pig barns.
"We know that Iowans care about natural resources," Schweitzer says. "It gives us a glimmer of hope that we can continue to provide habitat for the insects to breed and help the population not just survive but thrive."
The Iowa Monarch Conservation Consortium will host educational workshops for farmers and landowners this summer to share the latest research about planting and establishing monarch habitat. For more information, visit https://monarch.ent.iastate.edu/iowa-monarch-conservation-strategy.
All Iowans are also encouraged to take part in monarch conservation efforts, Schweitzer says. Families can find resources to help protect the monarch butterfly through the Blank Park Zoo's "Plant. Grow. Fly" program, at www.blankparkzoo.com/conservation/plantgrowfly.
"Take an opportunity when it's available to learn more about native plants, like milkweed, and the monarch lifecycle," Schweitzer says. "Connect with a grandchild, connect with a niece or nephew, and share that experience of why the monarch is beloved in Iowa."

Return to The Iowa Dish