Meet a former Iowa Hawkeye and NFL lineman who is literally "Farm Strong"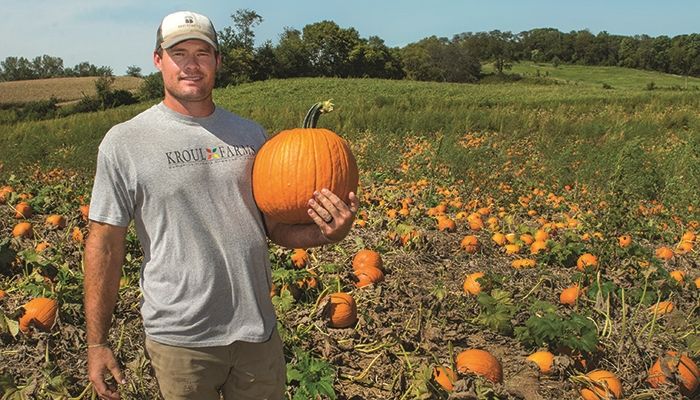 We talk a lot about "Farm Strong" values here on our Farm Fresh blog -- about the hard-working character and perseverance of Iowa farmers, who overcome the weather, the markets or whatever challenges are thrown at them to deliver the harvest every fall.
Sometimes, we mean "Farm Strong" by its most literal definition. I was thinking about this a few weeks ago while I watched Linn County farmer Matt Kroul and his college-student seasonal employees lift 20-pound pumpkins from the field, onto their shoulders and up on a hayrack.
Kroul, who once was a lineman for the New York Jets and a standout player for the Iowa Hawkeyes, has returned to his family's farm in eastern Iowa. The family grows pumpkins, sweet corn, vegetables, row crops and cattle just south of Mount Vernon.
"There are so many parallels with football and sports to business and farming," Kroul said. "I've said it a million times: You get out what you put into it. With working out and sports and this kind of (farm) business we run, if we don't get a hay rack of pumpkins picked, we aren't going to make any money. If we don't get anything planted, we aren't going to make money. Obviously, that doesn't always work out when you are dealing with Mother Nature, but you try your best."
Kroul said he always planned on coming back to the farm after his football career ended. He and his wife, Nicole, wanted to raise their kids in rural Iowa after living in big-city New Jersey.
Now with Kroul back on the farm, the family is tapping into the growing demand for locally grown foods. In addition to 25 acres of pumpkins, the Krouls grow 8 acres of sweet corn and 4 acres of vegetables. Plus, they grow traditional corn and soybean crops, and they raise cattle and egg-laying chickens.
The Krouls sell their produce at the popular Cedar Rapids and Mount Vernon farmers markets in the summer. Visitors can also buy tomatoes, vegetables, pumpkins and flowers at the Krouls' on-farm store, located along Highway 1. The Krouls don't charge admission for guests to visit the farm or to explore the farm's corn maze in the fall.
However, if you visit Kroul Farms this fall, keep in mind that you may need the strength of an NFL lineman to lift that giant pumpkin your kids are begging you to buy.
In addition to traditional jack-o'-laterns, Kroul Farms grows "warty" pumpkins, giant white pumpkins, mini pumpkins and Cinderella pumpkins, which looked like the carriage ride from the fairy tale.
"(Our customers) want anything unusual," Kroul said. "You can find the best-looking pumpkin out in the field, but then people will walk up and get the one that doesn't even stand up and falls over. You can't figure anybody out."
Be sure to check out
www.americaneedsfarmers.org
to see why Matt Kroul and other Iowa Hawkeye football great have joined the "America Needs Farmers" (ANF) team to recognize the farmers who work hard every day to provide food, fuel and fiber for our nation.
By Teresa Bjork. Teresa is Iowa Farm Bureau's senior features writer.