Loess Hill farms band together after floods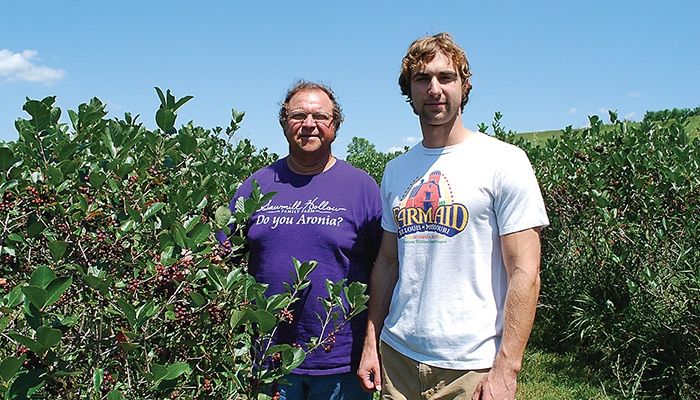 It's been a tough summer for the folks who live along the Missouri River in western Iowa. Residents in Missouri Valley, a small town just north of Council Bluffs, rushed in June to stack sandbags around homes and businesses to protect against the Missouri River flooding, which was expected to leave downtown under 4 feet of water.
Fortunately, the worst of the flooding bypassed the town, and the sandbags are now gone. But the effort shows how rural Iowans will go out of their way to help friends and neighbors in need.
That same sense of community exists among farmers in western Iowa's Loess Hills and across the state, says Andrew Pittz, a young farmer from Missouri Valley.
Andrew and his parents, Vaughn and Cindy Pittz, grow aronia berries, a native Iowa fruit, on their scenic farm near Missouri Valley.
Their Loess Hills neighborhood is also home to a lavender farm, an apple orchard, an artisan goat cheese farm, plus some of the best row-crop ground in the world. And these farmers are all working together to grow the local community.
"Iowa has a great history of agriculture. We're really proud that Iowa produces more soybeans than all of Canada, (and) we are competitive in corn production and output with the whole country of China," Andrew says. "The aronia berry is just another chapter in Iowa's agriculture history."
Andrew says his family decided to raise aronia berries because they were a good fit for their farm, which is adjacent to the Sawmill Hollow Wildlife Area in the Loess Hills.
Aronia berries, which are native to Iowa, perform well in the state's variable climate and have very few pest problems, so they are easier to grow organically. The berries, which are high in antioxidants, have gained a following among consumers and health professionals.
The Pittzes have partnered with several conventional corn and soybean farmers in Iowa, who are growing aronia berries on a few acres of land as a way to diversify their farm income.
"We get along great with our farmers and our neighbors who are conventional farmers or organic. They support us, and we support them. We're in this agriculture 'thing' together," he says.
In addition, the Pittzes and their neighbors are helping to create agritourism opportunities through the Living Loess Tour, a monthly open house hosted by local artisans and specialty farms. (Visit
www.livingloess.com
for more information.)
By working together, these diverse farms are bringing busloads of tourists, and their dollars, to an area that needs an economic boost after the Missouri River flooding.
Written by Teresa Bjork
Teresa is a features Writer for the Iowa Farm Bureau.