Like Des Moines Water Works, I'm prematurely giving up on my two-year-old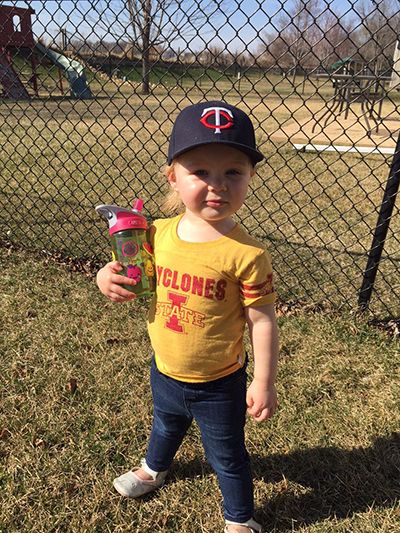 It's time to radically alter the course of my daughter's education.
Yes, she's meeting and exceeding many milestones people associate with two-year-olds, she's a good big sister to her five-month-old brother, and our family physician is happy with her development.
But I need to see some
real
results right now!
Identifying letters and colors isn't going to get her into college (much less a full-ride scholarship), kisses for the baby aren't going to win points in job interviews, and no one's going to hire an aerospace engineer who can't consistently make it to the potty on time.
Instead, I'm in favor of the mentality Des Moines Water Works is taking toward another two-year-old,
Iowa's Nutrient Reduction Strategy
.
The strategy, first funded by the Iowa legislature in 2013, is a science- and technology-based plan to conserve Iowa's soils and protect water quality. It was developed by Iowa Department of Agriculture and Land Stewardship, the Iowa Department of Natural Resources, and scientists at Iowa State University. It's being hailed by many
local, state and national leaders (including the U.S. Environmental Protection Agency)
as a plan that's making great progress in protecting water quality, and it's helping forge many
rural/urban conservation partnerships around the state
, like a partnership between the city of Cedar Rapids (Iowa's second-largest city) and area farmers and landowners.
And yet, Iowa still faces water quality challenges.
It's clear proof, according to Des Moines Water Works, that the Nutrient Reduction Strategy hasn't cleaned up Iowa's water and never will.
Instead, Water Works advocates for strict farming rules and regulations.
That sounds like a sensible approach to me. There must be some way to force my daughter to learn – to mandate a schedule and specific activities that will carve out her superfluous exploration and put her on a straight and accelerated path to learning and achievement excellence.
I mean, mandates are working well for the farmers in the Chesapeake Bay watershed, right?
Please tell me the
Chesapeake Bay regulatory approach
is showing significant, linear improvements in water quality! Those guys have been on a "pollution diet" for five whole years. I really hope my daughter has cured at least one terminal disease by then.
Or maybe, I'm not giving my daughter (and Iowa's Nutrient Reduction Strategy) a fair shake. Maybe it's okay to admit that learning and improving water quality is hard work, and it takes time and cooperation.
Perhaps it's okay to work together – to take into account science, weather, and different topography and soil types, and other variables to find the right water quality solutions for different situations – as opposed to mandating the same practice, permit or regulation in every instance.
I suppose I don't need to defy doctors, teachers, scientists, and national, state, and local leaders.
Yeah. I think I'll stop pooh-poohing solutions that don't result in a desired long-term effect immediately and start laying the groundwork for future success.
By Zach Bader. Zach is Iowa Farm Bureau's Online Community Manager.