Lending a hand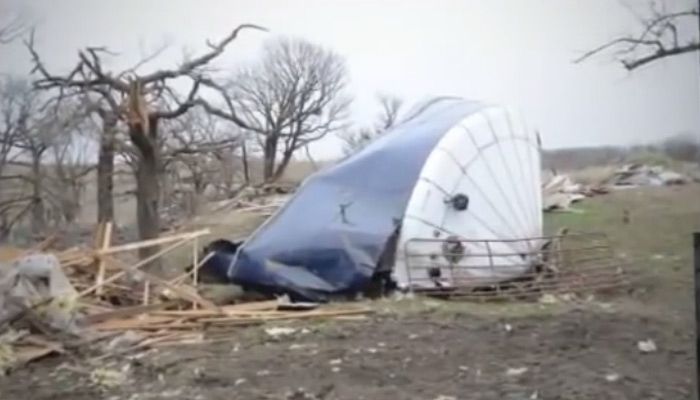 Some of the worst of Iowa's weather—a series of tornados that severely damaged farms and communities in northwest Iowa the night of April 9— again brought out the best in Iowans.
Last week neighbors, friends and hundreds of hundreds of high school and middle school students fanned out across the damaged areas. They cleaned up debris from farms and fields nearly ready to plant. They helped to relocate livestock from damaged livestock barns. And—maybe most importantly—they brought a spark of hope to people whose homes and farms were pummeled by the vicious Saturday night storms.
"We've just been overwhelmed by all the love that people have shown us," said Pam Mooney, as she and her husband, Damon, took a short break from cleaning up their severely damaged home and farm north of Nemaha in Sac County. "People are just stopping at our house looking for ways to help out."
The sentiment was the same for Nicholas Snyder, whose farm is northeast of Nemaha was leveled by the storm. "We really appreciate what everybody is doing for us," he said.
Russ Davis of Nemaha said that it was clear by daybreak Sunday morning, only hours after the storm clouds passed, that the community was responding to those affected by the tornadoes. "At every site that was hit there were 40 to 50 cars of people who were helping. And people continued to show up day after day," said Davis, a longtime Sac County Farm Bureau leader.
The severe storms developed across northwest Iowa on the evening April 9 and spawned at least 10 tornadoes from Monona County on the state's western border all the way to Kossuth County. While the storms caused no serious injuries, they did widespread damage to the town of Mapleton and other communities, as well as many farms in several counties.
For the schools in Sac County, it made sense to organize students to help out those affected by the storms, said Ellen Pickhinke, who is principal of Ridge View Middle School in nearby Early. "Our job as administrators is to make sure that we give them life lessons," she said. "That's one reason we wanted them out but we also wanted them out to show them that we all care."
In all, Pickhinke said approximately 900 students joined the hundreds of volunteers to help clean up debris left by the storm. "I think that says a lot for a very small town and community."
Pickhinke noted that several county organizations, including the Sac County Farm Bureau, supported the cleanup effort. The county's beef and pork producer organizations also pitched in to feed the hard-working volunteers.
It's meant a lot to be able to help out, said Faith Nailor, a seventh grader at Ridge View after spending hours walking though fields to clean up the storm damage.
"It feels really good to be able to help," she said. "Our family wasn't hurt by the storm, but our whole community was hurt."
Davis said there was some concern it would be difficult to organize all of the students and help them coordinate with the volunteers already on the ground. But, he said, all of the efforts meshed well and the students were a big help.
"It was very well organized by Mrs. Pickhinke and others, they kind of came in waves," Davis said of the students. "In two hours I saw about probably 200 kids clean up 450 to 500 acres and picked up tin, wood and even a ball hitch."
Farmers hit by the storm were very thankful for the volunteers. "It's been a great help," said Damon Mooney, also a Sac County Farm Bureau member. "With all of those kids, you know it's not going to take that much time to get things cleaned up."
Written by Joe Murphy
Joe is a photographer and writer for Iowa Farm Bureau.