Learning from a legend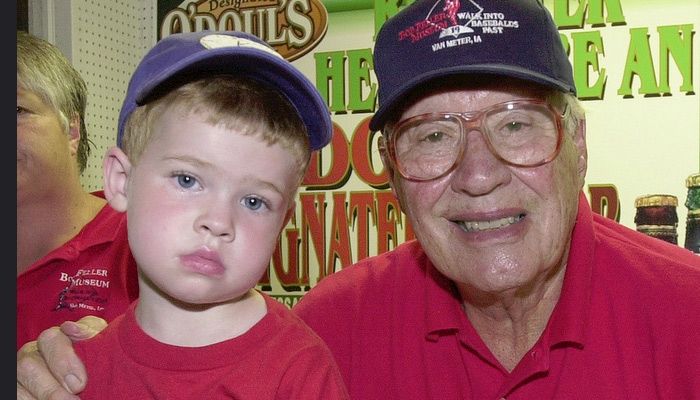 Now, as a photographer and writer, I have met a lot of special Iowans. It's the combination of their family values, commitment to conservation and a steadfast dedication to their jobs. Above all, I admire their work ethic, that "roll-up-the-sleeves" mentality.

A perfect example would be of Bob Feller, the baseball Hall of Fame pitcher, who recently passed away. Known as "Rapid Robert," he threw some of the fastest pitches in the late 1930s, striking out the greats, like Joe DiMaggio and Ted Williams, He often credited his success and strength to being a farm kid in Van Meter.

Last night, while I was working on my computer, I read that Feller had died in Ohio. I was instantly brought back to a blustery winter day seven years ago. Wicked weather was closing businesses and roads and I was on my way home with my 3-year-old son in the car.

As we passed the Bob Feller Museum in town, I saw a small white sign blowing, in the wind, declaring that "Rapid Robert" was in. I couldn't help but feel lucky because I was confident that not many visitors would be venturing out in this weather. Maybe it would be the perfect time for one of Van Meter's newest residents, my son, Parker, to meet the town's most famous citizen.

We walked in and there he was. Bob Feller relaxed in a chair near the door of the visitor-lacking museum. Parker and I had the "Heater from Van Meter" all to ourselves. We talked about baseball and the town we all called home. I admit that I didn't know much about Feller prior to moving to Van Meter, but it didn't take me long to become a fan.

After that initial meeting, I had the opportunity to photograph him and meet him several other times. I learned more about his life and his career. It always impressed me that he gave up some of the best years of his career to volunteer in the Navy and fight in World War II. As the years have gone by, I understand more about where he was coming from when he signed those enlistment papers and left for the Pacific theater.

Last fall I volunteered to help veterans on a recent Honor Flight to Washington D.C., each one of the men I talked to told me they fought in the war because that is what needed to be done. In several interviews, Feller stated the same thing, even saying that it was the most important thing he did in his life; a life filled with records that still stand today and fame from his pitching days with the Cleveland Indians.

Feller often cited his childhood on an Iowa farm as the most important contribution to his baseball career. I read many interviews over the years that credited the early mornings of throwing hay and doing other chores around the farm as the primary reason he was a great pitcher. He even went as far as saying that parents today should try to instill those rural values into their children, regardless of where they live. Here's one of his favorite quotes on the subject:

"My father kept me busy from dawn to dusk when I was a kid," Feller said. "When I wasn't pitching hay, hauling corn or running a tractor, I was heaving a baseball into his mitt behind the barn."

As the news coverage and eulogies are written I think we can all learn from his life. Hard work, discipline and selfless acts made Bob Feller a great man and a legend. We could all learn from a life like that.


Written by Joe Murphy
Joe is a photographer and writer for Iowa Farm Bureau.