Kevin Reynolds receives Honorary Rathbun Lake Protector Award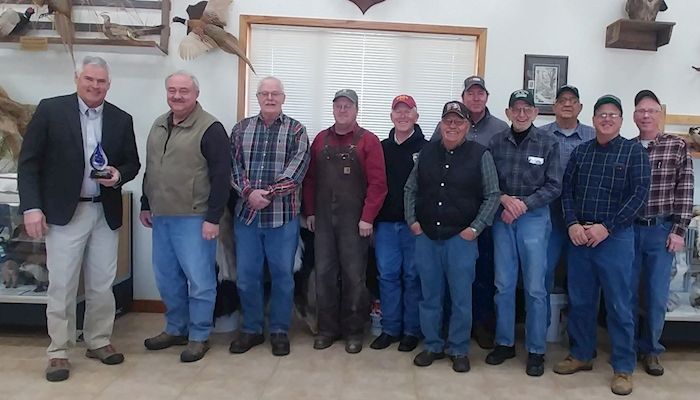 Iowa First Gentleman Kevin Reynolds received an honorary Rathbun Lake Protector Award at the Rathbun Land and Water Alliance's Jan. 12 board meeting held at Pin Oak Marsh in Chariton.
Since 2006, the Rathbun Land and Water Alliance has been recognizing landowners in the Rathbun Lake Watershed who take extraordinary action to protect Rathbun Lake through their conservation practices.
Each year, the Alliance invites the Soil and Water Conservation Districts in the six southern Iowa counties of Appanoose, Clarke, Decatur, Lucas, Monroe, and Wayne to nominate landowners for their outstanding contributions to the protection of Rathbun Lake. Nominations are based on past efforts as well as present and planned actions to protect soil and water quality. The Honorary Rathbun Lake Protector Award is only given to one individual each year.
In presenting the award, John Glenn, RLWA president and Rathbun Regional Water Association CEO, thanked Reynolds for helping with Rathbun Lake Watershed conservation activities. "We appreciate all you did in the area of conservation and in working to get as many priority acres treated as possible," said Glenn. Kevin earned his bachelor's degree from Iowa State University in agronomy. His first job was with the County of Pottawattamie in soil and water conservation. He was a county resource planner. Kevin went on to work at the U.S. Department of Agriculture first as a soil conservationist and later as a district conservationist. He served as DC in Decatur County as well as interim DC in the Chariton Field Office for Lucas and Wayne counties.
After 36 years of service, he retired in March 2017. As an avid outdoorsman, Kevin also continues to deeply care about soil health and water quality. As First Gentleman, he is actively engaged in educating Iowans of all ages about the state's many treasured natural resources.
RRWA Support Services Officer Marty Braster reported the development of a Natural Resources Conservation Services Iowa Partners for Conservation grant proposal to be submitted before the end of January. "This proposal is for technical assistance, not cost share," said Braster. "The Alliance has primarily focused on structural measures to protect water quality due to their cost effectiveness, but this grant will compliment that structure work with grazing, cover crops and wildlife habit."
Dave Loebsack's Congressional Aide, Dien Judge, was also in attendance. Judge said Congressman Loebsack would like to return to the area to tour the conservation practices in the Rathbun Lake Watershed. "Congressman Loebsack is always interested in what the Alliance is doing to protect water quality," said Judge.