Keeping it real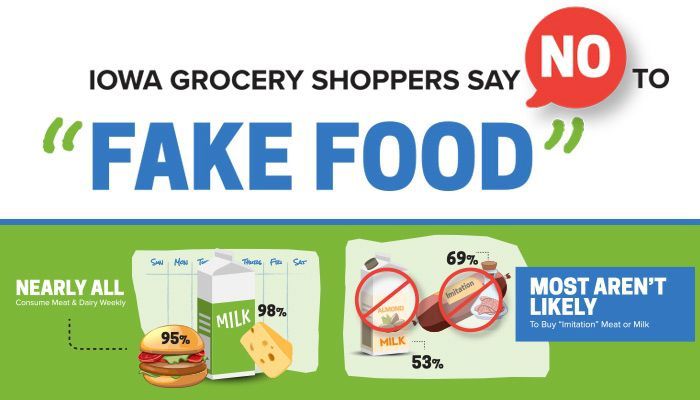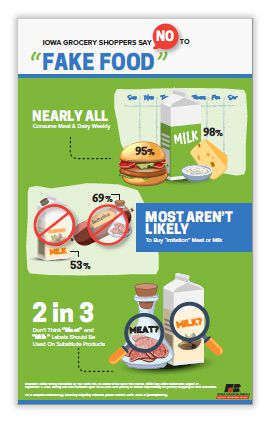 While you can find more meat and dairy alternatives in the grocery store today, most Iowans still prefer to buy real meat and dairy foods, according to the latest Iowa Farm Bureau Food and Farm Index®.
The annual survey, conducted online this fall by The Harris Poll, shows more than 9 in 10 Iowans (95 percent) say their households eat meat at least once a week.
However, only 3 in 10 (31 percent) say they are likely to buy imitation meat, even if it was readily available.
The survey reflects that many Iowans realize the nutritional benefits of lean meats, dairy and eggs, says Dr. Ruth MacDonald, professor and chair of Iowa State University's Department of Food Science and Human Nutrition.
Macdonald says animal-based proteins are considered high quality proteins because they contain all the essential amino acids our bodies need and are easily digestible.
In comparison, plant-based proteins are incomplete proteins because they lack one or more essential amino acids and aren't as easily digestible, MacDonald explains.
"In the nutrition community, we have long known that lean meats, dairy foods and eggs all provide nutritional benefits," MacDonald says.
"They are good sources of micronutrients, such as zinc and iron. Eggs, in particular, contain unique nutrients that are important for brain development in children and proteins that are beneficial for growing children and adults."
The Iowa Farm Bureau Food and Farm Index also found that nearly 7 in 10 (69 percent) Iowa grocery shoppers don't agree that plant-based or lab-grown meat substitutes should be allowed to use the word "meat" on their labels.
Nearly 6 in 10 (57 percent) also don't agree that plant-based milk substitutes should be allowed to use "milk" on their labels, and less than one-half (47 percent) would buy almond milk or other dairy substitutes. That percentage goes down even more once grocery shoppers learn more about milk substitutes, with just 2 in 5 (41 percent) favoring almond milk or other substitutes instead of dairy milk.
Macdonald explains that dairy foods are a rich source of natural calcium, an essential nutrient for children and adults. While plant-based beverages can be fortified with calcium, the added nutrient isn't as readily available for our bodies to absorb, she says.
Two-thirds of Iowa grocery shoppers (66 percent) say they are likely to increase their consumption of milk and dairy after learning that the "highest quality proteins" come from meat, eggs and dairy.
The Iowa Farm Bureau Food and Farm Index was conducted online from Aug. 27 to Sept. 4 by The Harris Poll on behalf of Iowa Farm Bureau among 508 adults aged 20 to 60 residing in Iowa who have primary or shared responsibility for household grocery shopping.

Return to The Iowa Dish