Just put an egg on it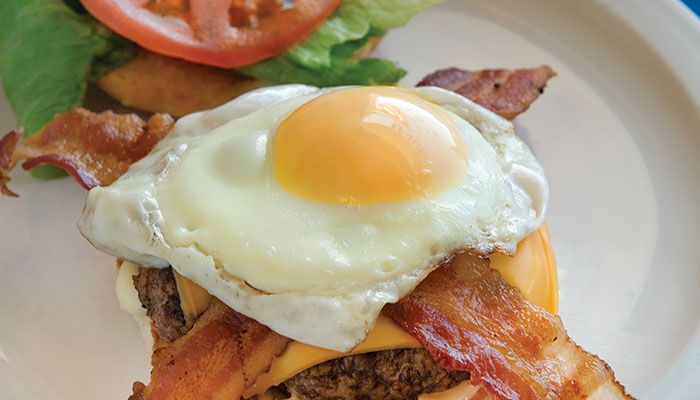 One of today's trendiest ingredients on restaurant menus and on Instagram is likely already nestled in your fridge.
Creative recipes for eggs — that's right, eggs — are hatching outside the typical breakfast plate. Now you can find eggs on everything from pizzas, burgers, pastas and nachos to "protein" boxes — a snack box of hard-boiled eggs, nuts and cheese.
And the "Put in Egg on It" trend continues to grow in popularity thanks to social media and consumer demand for back-to-basics, natural foods, says Katie Nola, director of marketing for the Iowa Egg Council.
"Everybody wants all-natural foods, so eggs are always on trend because they are all natural with no added preservatives," Nola says. "And people are seeing that (eggs) are a good source of protein, low in calories and offer so many other quality vitamins. People are finally recognizing that."
In fact, egg consumption in the United States continues to rise. In 2018, Americans will eat 279 eggs per person annually, a big jump from the 255 eggs per person consumed in 2015, according to forecasts from the American Egg Board.
Nola credits the rise in egg consumption, in part, to McDonald's and other quick-service restaurants adding eggs to their all-day menus.
"Brunch is huge anymore. Everyone is out 'brunching.' And breakfast for dinner, that's been trending," Nola says.
Eggs are also on trend with the latest diet fads, Nola says. The Mediterranean diet, keto diet and Whole 30 diet all include eggs on the menu, she notes.
Plus, eggs look appealing in Instagram photos. "There has been a trend now with Asian-inspired foods, like pho bowls, and they have eggs in them," Nola says.
"And avocado toast is huge. That (trend) started last year. Usually, they will do a poached egg, just so you get the runny yolk coming off onto the avocado," she continues. "It's still holding strong, the whole 'Put an Egg on It' trend."
Another reason eggs are enjoying a moment is that Americans in general are more health-conscious and looking to improve their diet, Nola says.
"They recognize the nutritional benefits, the versatility of the egg. And you can't beat the price of eggs for a good source of high-quality protein," she says.
Nutritionally, a single egg has only 70 calories, 4 grams of fat, 6 grams of protein and all nine essential vitamins and minerals.
And don't forget the yolk, because that's where you will get most of the nutrients, Nola says.
For example, eggs yolks contain lutein, which research shows helps protect our eyes from all the "blue light" from our tablets and smartphones, she says.
Eggs are also a good source of choline, a nutrient that's essential for babies' brain development in pregnant women and for cognition and memory in adults, Nola says.
Nutrition experts also recommend consuming 20 to 25 grams of protein at every meal, including breakfast, to help prevent age-related muscle loss and to aid muscle recovery after exercise, she adds.
In addition, the latest U.S. Dietary Guidelines for Americans no longer places a limit on dietary cholesterol. So eggs are back on the menu as part of a healthy diet.
Now is a great time of year to take advantage of spring sales on eggs, Nola says. Deviled eggs are always a hit at spring gatherings.
Nola says her favorite weekend breakfast is avocado toast — toasted bread topped with smashed avocado and a poached egg with a little salt and pepper.
"There is always a time and place for eggs," Nola says.
For more egg recipes, visit the Iowa Egg Council website at www.iowaegg.org.
Return to
The Iowa Dish