Is the Christmas ham done?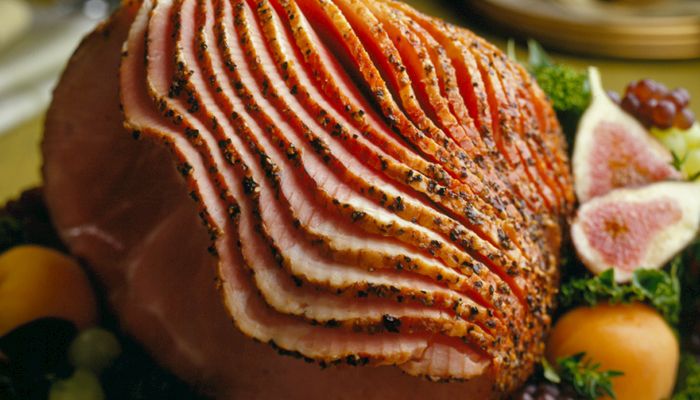 If you're hosting Christmas dinner this year, you don't have to go it alone if you run into a last-minute cooking dilemma.
The U.S. Department of Agriculture's (USDA) Meat & Poultry Hotline (1-888-MPHotline) is available this holiday season to answer your food safety questions.
Marianne Gravely has worked at the USDA's Meat & Poultry Hotline for almost 30 years. Gravely says she's heard it all when it comes to holiday food safety questions.
"Every year, there is always a snowstorm somewhere on (the holidays)," Gravely says. "People are late getting to dinner, and the poor cook doesn't know what to do.
"And people are suspicious of their relatives. They see that the turkey is thawing in the garage, and they don't think that's safe. It's really interesting," she adds with a laugh.
Gravely says that even though Americans enjoy the safest food supply in the world, the potential for food poisoning remains.
About 48 million people get sick from food poisoning every year, resulting in 128,000 hospitalizations and, unfortunately, 3,000 deaths, according to the U.S. Centers for Disease Control.
"We don't want anyone to have a food poisoning holiday," Gravely says.
Gravely offers the following steps to ensure that the holiday meal is safe to serve your family and friends.
Remember to wash your hands. Always wash your hands before and after handling food. Wash your hands for 20 seconds under warm water and with soap, Gravely says.
Don't rinse the turkey first. If you wash the turkey in the sink, then you run the risk of splashing and spreading food-borne pathogens around your kitchen.
"There are some bacteria that no matter how many times you wash that bird, they are not going to come off," Gravely says.
Use a food thermometer. Ham, beef roasts and pork chops are safe to eat when they reach an internal temperature of 145 degrees Fahrenheit, with at least a 3 minute resting time.
A turkey is safe to eat when it reaches an internal temperature of 165 degrees Fahrenheit. While the pop-up timer will tell you when the turkey is done, a food thermometer is the best way to ensure the turkey is at a safe temperature and isn't overcooked, Gravely says.
Check the temperature of the turkey at the thickest part of the thigh, breast and wing area. If it's 165 degrees, it's safe to eat, even if the meat is pink near the bone, Gravely says. "We say color is not a reliable indicator of doneness. The thermometer is," she says.
Gravely recommends buying a food thermometer at the grocery store when you are also buying the turkey, ham or prime rib.
"This is a big meal. You have a lot of people eating at your house. You don't want to worry about it not being safe, but you also don't want to worry about it not being delicious," Gravely says.
Promptly refrigerate leftovers. As much fun as it is to graze on turkey all day, it's safest to refrigerate the leftovers as soon as the meal is over, Gravely says.
Slice the meat off the bone before you refrigerate it, and pack the leftovers in shallow containers so they cool quickly. Use the leftovers within three to four days or freeze them. Frozen turkey and ham leftovers will stay delicious for four months or more, Gravely says.
Call the USDA Meat & Poultry Hotline toll-free at 1-888-MPHotline (1-888-674-6854). The hotline is open weekdays from 7 a.m. to 1 p.m. Central Time. The hotline is closed on Christmas and New Year's Day.
Return to
The Iowa Dish