Iowa underground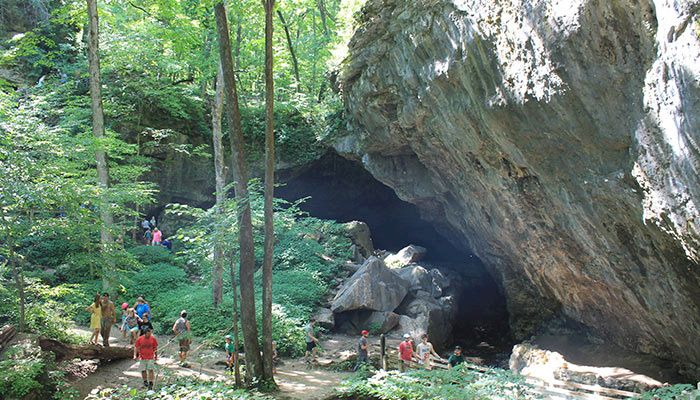 Anyone who has traveled through­out Iowa will tell you there is much more to the state than what appears on the surface. Iowa has a lot to offer, especially if you are interested in its natural history.
One "natural wonder" worthy of a visit is Maquoketa Caves State Park, which is located in historic Jackson County on the eastern side of Iowa 33 miles south of Dubuque.
The farmland here is rolling and scenic, but the topography can also be rugged and heavily timbered. It is a beautiful part of the state, and it attracts thousands of people each year thanks, in part, to the scenery and its proximity to the Mississippi River.
Maquoketa Caves State Park has a history that goes back well before Iowa even became a state. It was first established as a state park in 1933, but discoveries in the area show Native Americans, like the Sac, Fox, Sioux and Winnebago tribes, had used the caves for hundreds of years, or perhaps even longer. It was not until after the signing of the treaty that opened up the Iowa territory that settlers were even aware of the caves and rugged limestone bluffs visitors to the park see today.
Once discovered, the caves be­came a popular, local attraction — a place where people explored, had picnics, and even hosted parties and dances. Known locally as Moorhead Caves or Burt's Caves, the area was so popular a dance floor was built in 1868 near the famed Natural Bridge, and an entire dance pavilion was later constructed and used until the 1920s.
All evidence of these structures is now gone. What remains, though, are the many caves tucked among rugged, limestone bluffs that first attracted so many people long ago. Today, around 300,000 people visit the 370-acre park each year, making it one of Iowa's most popular state parks.
"The caves are a unique feature in Iowa — and it's probably the most unique state park in Iowa because of the number of caves we have," explained Ryland Richards, a park technician at Maquoketa Caves State Park, who said it is a great starting place for people interested in caving. "What also makes it unique is you can go through the caves on your own. There's something for everyone here and, unlike other parks with caves, there are no guides required — you can explore everything on your own."
There are 16 caves officially open to the public and listed on the park's map, but there are more than 40 caves found within the park's boundaries. Some of these include side caves that can be explored when visiting the park's main caves, but many others are inaccessible and closed for exploration. For this reason, Richards recommends anyone visiting the park needs to follow posted guidelines and be aware there are hazards with any type of caving.
"First and foremost, you need to stay on the trails — they provide the easiest and safest access to the caves identified. The trails have been created and are maintained so you can explore the park in a safe manner," offered Richards.
Though dangers exist in all types of outdoor pursuits, there are certainly opportunities for people of all ages and abilities to enjoy the underground wonders of the park. Ten of the caves are considered "crawl-through" caves, which means you should expect to get dirty, have to use a flashlight, and experience varying degrees of difficulty during your exploration.
However, Rainy Day, Ice Cave and Dancehall — the park's large, feature cave — are all "walk-through" caves that can be navigated by most people. However, even in these walk-through areas, you should be prepared to encounter places where you need to stoop, walk on wet surfaces, navigate dark areas and/or hike on steep trail sections.
Another interesting feature of the park is the resident bats, who are a protected resource. You will likely never see one, even during the warm, summer months they are active, but the caves actually close down from October through April so the bats can hibernate peacefully. Dancehall Cave, in particular, has proven to be the ideal place for hibernating bats thanks to a year-round temperature of 55 degrees.
"The most common bats in the park are Little Brown Bats and Big Brown Bats, and they play an important role here because they eat a lot of bugs. It's estimated that one Little Brown Bat can eat approximately 1,000 bugs in a single hour," said Richards.
Given all these unique features, it should come as no surprise that Maquoketa Caves State Park is something from which the whole area benefits.
"Though a few miles from town, the park has a major economic impact on the City of Maquoketa because it draws visitors to our area, who then venture into Maquoketa to stay in our hotels and campgrounds, buy gas and food, shop and visit our city's other attractions," said Wendy McCartt, executive director of the Maquoketa Area Chamber of Commerce. "Our community takes pride in the park and nonprofit groups, like Friends of Maquoketa Caves, volunteer countless hours to raise funds and help staff the visitors center and concession stand."
According to McCartt, Dancehall Cave, Ice Cave, the Balanced Rock and the Natural Bridge are all "must-see" attractions when visiting the park but said her family likes to visit the caves throughout the year.
"We love the fact that it's something our entire family can enjoy — no matter what age. It's always fun to visit during the summer months, as the wildflowers are in full bloom, and visitors from far and wide are there and excited to be experiencing all the park has to offer. I have also visited in the spring, on quiet, crisp mornings, and my children and I have spotted deer just a few feet away from us. A hike through the park in the fall, as the leaves are boasting their fall colors, is also breathtaking. A winter hike in the park is beautiful as well," offered McCartt.
Are you ready for a visit? If so, Richards has one last bit of advice.
"Respect the place you come to ... These caves have been here a long time, so we want people to take care of them so future generations can enjoy them as well," said Richards.
Yontz is freelance writer from Urbandale.