Iowa deer population at tragic numbers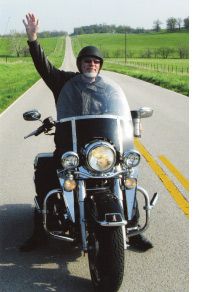 One evening last month my parents set out from their home in Forest City to enjoy a motorcycle ride and a picnic in the park. My mother would have never imagined it would be the last time she enjoyed a smile and wave from my dad. The two enjoyed riding their Harley Davidson motorcycles around North Iowa and even across the country. As my dad turned onto the river road south of Forest City, a deer bolted from the ditch, striking him in the side and throwing him to the pavement as his bike slid off the road. My father was pronounced dead later that evening and he became another statistic in Iowa's losing battle against the white tail deer.
Sadly, my dad was not alone. Several days prior to his accident another North Iowa man was killed when his motorcycle collided with a deer near Lake Mills.
In the days following the accident I couldn't help but think if my dad would have left home 30 seconds earlier or 30 seconds later he wouldn't have been hit by that deer. I'm sure that 1.5 million other people in North America have shared those same thoughts. One and a half million people are estimated to be involved with deer/vehicle collisions annually in North America. That number along with 29,000 human injuries, $1 billion in insurance claims and tragically the loss of life is what makes the white tail deer the most dangerous mammal in North America (
http://www.reason.com/news/show/34914.html
).
The loss of a loved one is always difficult. But what has made it especially tough for me, is the fact that my dads death easily could have been avoided. If state officials would examine their policies on the size of the deer herd a herd that has been estimated to have tripled in the past decade there would be fewer accidents and fewer deaths. Allen Farris, then the head of the fish and wildlife division for the Iowa Department of Natural Resources, testified to lawmakers in 1997 that he thought the deer herd should be between 80,000 and 90,000 in the state. Today the herd is estimated at 475,000. (
http://www.drake.edu/cyberpress/2-25/deer.html
)
According to the Iowa Department of Natural Resources website (
http://www.iowadnr.gov/wildlife/files/drhist.html
) deer do well in Iowa. But the question the state should ask is what good do the nearly 500,000 deer do for Iowa? Outside of revenue from the sale of hunting permits, the white tail deer is more of a scourge to the environment. An MSNBC article clearly shows that the white tail deer has destroyed farmland and changed the ecology of forests nationwide, as well as causing increasing property damage and fatalities like my father's. (
http://www.msnbc.msn.com/id/6835501
)
It's easy for Iowan's say that it's someone else's problem. But that's no longer true. While covering stories for the Spokesman I've come across farmers dealing with severe deer destruction. Two come to mind as I write this. Steve Duke, a farmer near Keosaqua, has had to repair his fences constantly and has seen crops trampled and consumed by a herd of 60 deer that he watches from his kitchen window nightly. Stan Mattes, a Taylor county farmer warned me to be careful as I left his home one night, because of deer. I smiled back and said I would take caution if I spotted one. He replied "it's not if you see one" and sure enough as I drove Highway 2 at dusk I counted five deer along the road in a 15 mile stretch. It's everyone's problem in Iowa.
It's time that citizens of our state join with organizations like the Iowa Farm Bureau; ABATE of Iowa and other groups to loudly say "enough is enough." Even hunters see the need to reduce the deer population. The National Rifle Association has weighed in on the issue offering the expertise of their membership to help cull the deer herd across this country. (
http://www.nraila.org/Search/?q=Deer%20Over%20Population
)
As a matter of public safety it is irresponsible to allow a U.S. deer population that was estimated at just 500,000 deer in the early 19
th
century to grow to a staggering 30 million deer nationwide today. Some estimates in Iowa place the ratio of deer to humans at one to six. In my mind that ratio has a direct link to why my father was killed on one of Iowa's roadways.
The Governor, Iowa legislature and the DNR should make it a top priority to cull the herd just for the simple fact of public safety alone. I urge people reading this blog to contact their elected officials, write to the Iowa DNR and talk with law enforcement personal about ways that we can get this problem under control.
Written by Joe Murphy, Joe is a photgrapher for the Iowa Farm Bureau.