Iowa beef, international flavor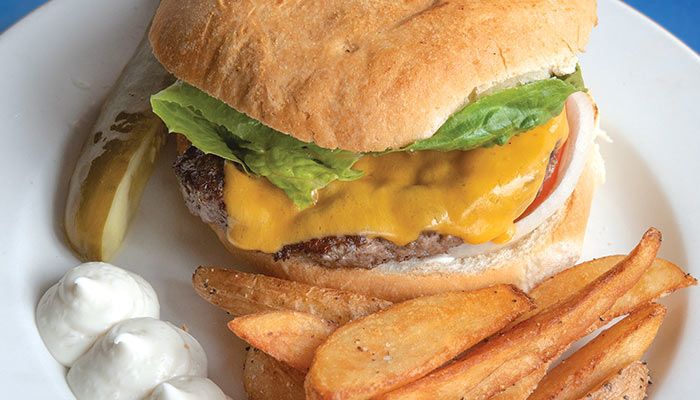 The winner of the 2018 Iowa's Best Burger contest brought Iowa-raised Certified Angus Beef and an international flair to the competition and walked away with the gold cup.

Cafe Beaudelaire in Ames claimed top honors in this year's competition sponsored by the Iowa Beef Industry Council and the Iowa Cattlemen's Association.

Tom Otting, kitchen manager at Cafe Beaudelaire, says folks at the restaurant and the Ames community are thrilled with the award. "We've been pretty excited here," says Otting.

"Regular customers have been coming in, as well as former staff, to congratulate us."

Otting says dining traffic has increased three- to four-fold since the May 1 announcement, aided by the "perfect storm" of the news and Iowa State University's spring commencement exercises.
Otting doesn't expect the traffic to subside anytime soon. Situated just across Lincoln Way from the ISU Campus with a reputation for an international clientele, Cafe Beaudelaire always sees a large crowd for World Cup Soccer, and it sits directly on this year's RAGBRAI route.
"The planets are all aligned," says Otting. "It's pretty exciting."
Despite a menu that expands well beyond hamburgers, Cafe Beaudelaire is not always recognized for its food. "Because of our location, a lot of people think we're just a bar," says Otting. "The whole time they've been in Ames they've never tried our food."
Owner Claudio Gianello came to Ames from his native Brazil to join friends more than three decades ago. He opened Cafe Beaudelaire in 1990 wanting to create an "international atmosphere" where people from any part of the world could enjoy a cup of coffee, a beer or food.
"Claudio is very picky about his coffee," says Otting. The espresso machine is always busy and always impeccably maintained. Fresh roasted espresso beans come from Burgie's Coffee & Tea Co. in Ames.
The casual cafe atmosphere with an international flare proved perfect for the college town. Known as "The soul of Brazil in the heart of Iowa," Cafe Beaudelaire has become a favored landmark with students and locals.
Otting and his kitchen crew use Iowa-raised beef for their creations. Gianello says he has tried various approaches to creating the perfect burger, finally settling on salt, pepper and a bit of oregano.
The patties are hand-pressed, just as other ingredients are prepped in house. Around 200 buns are fresh-baked daily in the Cafe Beaudelaire kitchen.
"We do as much of it ourselves as we can. That's how we maintain quality," says Otting, adding he would rather see an order take 5 percent longer than have 5 percent less quality.
The classic burger shows off the simplicity of the quality ingredients with a beef patty topped with lettuce, tomatoes, onions and mayo. The customer may add bacon, cheese or a fried egg.
The Spanish burger is a house favorite and offers the same quality Certified Angus Beef patty on its fresh-baked bun with sautéed bell peppers and onions, Muenster cheese and Spanish paprika mayo.
Sandwiches come with Brazilian fries — potato wedges twice-fried and tossed with salt and course ground peppers, then served in the European and Latin style with mayo for dipping.
"The key to our burgers and everything else we make is a fine-tuned balance of flavors," says Otting.

Return to The Iowa Dish