Iowa Spring Break Escapes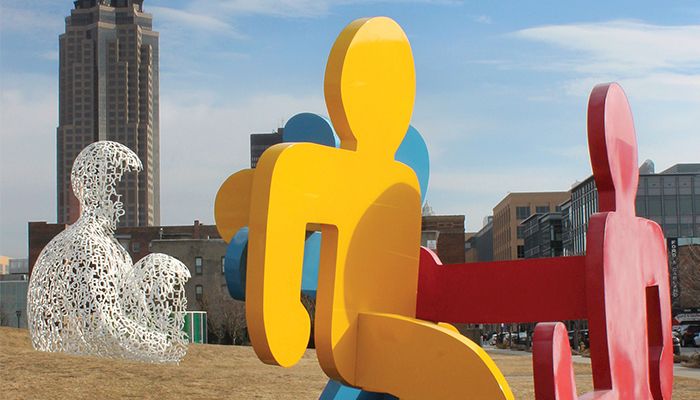 For many Iowans, March is traditionally a great time to leave the state in search of more sunshine and a warmer climate. This is especially the case for families with kids who have an official break from their studies. Not surprisingly, these breaks are a popular, time-honored tradition given Iowa's normally long winters.
A lack of time and money, how­ever, are often obstacles for many families when it comes to fully enjoying spring break. The good news is there are a lot of places to visit throughout the state if you find yourself Iowa-bound. Many of the things to see and do are inexpensive, if not free, which is great for budget-conscious families.
A fun, interactive way to learn more about the state's arts, history and cultural destinations is to use the Iowa Culture app. This free, mobile app allows you to explore more than 3,500 sites across all of the state's 99 counties, browse tour information and even utilize mapping tools to plan your trips.
If you are still unsure about where to start, the following ideas offer glimpses of Iowa's communities, history and natural beauty for free!
Iowa's West Coast: Dominated by the historic Missouri River, the west side of the state offers a number of attractions worthy of exploration. One is the Union Pacific Railroad Museum, which is located in downtown Council Bluffs in an architecturally historic building that once housed the Council Bluffs Carnegie Free Public Library.
Today, the museum offers hands-on exhibits for visitors interested in exploring the history of the Union Pacific Railroad. Permanent exhibits at the museum include displays that celebrate the travel and destinations Americans have enjoyed thanks to rail passenger service; the building of the Transcontinental Railroad; and the life of President Abraham Lincoln, who signed the Pacific Railway Act, which led to the founding of the Union Pacific Railroad.
The Western Historic Trails Center is another option for people visiting Council Bluffs. The center features a host of exhibits, films, maps and more — all of which share the stories of early pioneers who passed through Iowa while traveling along the historic Lewis & Clark, Oregon, California and Mormon Trails.
Iowa's East Coast: Like the state's "west coast," the eastern border of Iowa is also dominated by a river that plays a key role in state history. Needless to say, the Mississippi River is a prominent, natural feature that is hard to overlook.
A good way to explore this famous waterway is to follow the Great River Road National Scenic Byway, a world-renowned route that stretches more than 3,000 miles along the entire length of the Mississippi River, from Lake Itasca in Minnesota to the Gulf of Mexico. Along the Iowa portion of the route lies a host of interesting communities, which are home to many different sites and attractions worth closer examination.
Iowa's natural beauty is also on display all along the byway in places like Pikes Peak State Park, where scenic bluffs soar high above the river and offer impressive views of the surrounding land. Given this, be sure to find ways to enjoy Iowa's outdoor spaces, no matter the weather or whatever part of the state you plan to visit.
Everything in between: From border to border, there is much to see and do all across the state. Nonetheless, don't overlook Des Moines, as the capital city has a wide variety of options for visitors to choose from.
Free and open year-round, the Iowa State Historical Building is the state's main museum, and it features a collection of more than 80,000 objects, 1,500 of which are on display. Explore Iowa's rich, natural history and what life was like before settlers arrived and learn about Iowa's role in the Civil War and the more than 76,000 Iowans who served in the Union Army during the war. Look at the history of Iowa on the silver screen, from the early 1900s to today. And be sure to enjoy a great, colorful exhibit on RAGBRAI and the history of bicycling in Iowa.
And right up the street from the State Historical Building is the Iowa State Capitol, a prominent fixture of the Des Moines skyline. This is another free attraction for people interested in learning about state government, history, architecture and more. Free tours, led by knowledgeable guides, are available.
Des Moines is also home to some great examples of public art thanks to Pappajohn Sculpture Park and other art that is on display for everyone to enjoy — and it is all free for the viewing!
A fun way to explore this art is by following the Art Route, a painted path on city sidewalks and intersections that connects 87 pieces of public art along a 6.6-mile long trail in downtown Des Moines. You can even download a free, mobile app for a more tech-oriented experience and guide.
Enjoy spring break and your travels around the state!
Yontz is a freelance writer from Urbandale.