Iowa Pulled Pork Madness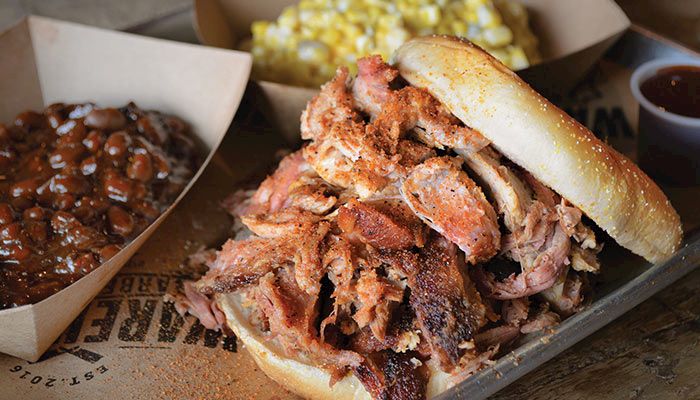 "Barbecue is a culture. It's an experience. It's about people coming together. The food is only one part of it," says Dusty Ware, owner, operator, chief cook and bottle washer at Warehouse Barbecue Co. and Brewhouse in Ottumwa.
The establishment took top honors in the annual statewide Pulled Pork Madness competition sponsored by the Iowa Pork Producers Association. The social media contest this spring produced 2,200 votes for the best pulled pork sandwich in Iowa. Iowa BBQ Co. of Le Mars claimed second place.
"We're very honored," says Ware. "It's because of our customers and fans. We try to make sure they have a good experience here beyond the smoke and fire and food. We want people to leave with a good memory."
But make no mistake, it's the food.
The pulled pork sandwich is a menu highlight, along with the smoked beef brisket. Other popular items include Warehouse Barbecue original creations like Piggy Poppers, a golf ball-size breaded and deep-fried ball of pulled pork and mac & cheese drizzled with house sweet barbecue sauce, and the Brisket Bomb, tender brisket breaded and fried and served with homemade white pepper gravy.
"We like to think outside the box," says Ware.
Other unique items on the menu include the DIRRRRRTY O stack — beer battered onion rings on top of house queso, shredded cheese, chopped prime brisket and a buttermilk biscuit. Captain Crunch battered chicken tenders are tossed in house Apple Habanero sauce, and the shrimp tacos are topped with spicy mango slaw.
These dishes claim menu space along standards like pork or beef ribs, sandwiches, and creamy mac & cheese.
Of course, they are all washed down with an array of beers and signature cocktails.
The traditional barbecue mantra of low and slow applies to everything made at Warehouse Barbecue, where the kitchen doesn't even have a microwave. "The only thing that comes out of bag is the French fries," says Ware. "Everything else is made in house."
That includes a line of house barbecue sauces. There's the original recipe, a spicy version, one that is "very hot," an Asian inspired sauce, and a mustard-based sauce. "There's something for everyone," says Ware. Of course, they all come from secret recipes. "There are a lot of secrets back there," he laughs.
Like a painting that is only as good as the canvas, Ware says a sandwich is only as good as the meat it starts with. He uses only USDA Prime beef for his brisket and beef ribs, sourced through Iowa Premium Beef. For his pork specialties, he relies on Duroc pork from a local supplier through US Foods. "That's important to us. It would be sad if you served pork in Iowa and had to go out of state to get it."
He likes Duroc for its marbling, dark pink color and higher grade. "It allows us to trim the surface fat and still maintain the moisture throughout. We can cut the fat cap off the pork butt and still get that nice crust. That's the best bite as far as I'm concerned." For ribs, he uses a St. Louis cut.
Meat is cooked two times a day. One batch goes on at night, ready to serve for lunch the following day. Another batch goes on at 4 a.m. to make the dinner rush.
The posted hours of operation say they close at 9 p.m., or when they run out. There have been some early nights. "We only have so much capacity," says Ware, "but that's just part of the place."
Ware never thought he would see people lined up to get in his establishment like some of the great barbecue joints in places like Austin, Texas. "It's hard to believe that's happening in small town Iowa."
But in the short few months since Warehouse Barbecue Co. opened December 2018, its reputation has spread.
Born and raised in Ottumwa, Dusty and his dad, also his business partner, started with a food truck serving barbecue around town.
Dusty had been cooking since his college days, although he admits some of his early creations were experimental. "It's a wonder I never got sick," he laughs.
He got serious in his mid-20s, about 10 years ago. The pair frequently takes barbecue road trips, traveling to check out various establishments. They entered regional competitions across the Midwest, learning more at each one and soaking up the barbecue culture.
"We'd like to maybe get back into that this summer," says Ware. "It will be a pleasure to represent the restaurant, Ottumwa, and Iowa. And, of course, to bring home some hardware."
Located at 2818 N. Court Road, Ware says they chose the location for a reason. "Much of the development in Ottumwa in recent years has been to the south and west, and many of the north-side neighborhoods were being a bit neglected. So when we decided to make the move from the truck to a permanent home, we wanted to do something to give the north side a boost."
The people have responded — both the neighbors and travelers.
"There's more going on in rural Iowa than people think," says Ware. "There's plenty to do here." And obviously, plenty of good dining.
Warehouse Barbecue Co. makes prolific use of social media marketing. "Good food pics spread like wildfire over the internet," says Ware.
You can follow them on Instagram at @warehouse_barbecue to whet your appetite.
Winning the Pulled Pork Mad­ness award can be a challenge for a place like Warehouse Barbecue. "We're not a casino buffet. We can only cook so much at a time. We have 94 seats and a full bar with 5-6 people in the kitchen and 4-5 working out front."
He hopes people will be patient and they will do everything they can to make sure folks leave with that full-on, feel-good barbecue experience.
Ware, as always, will be out front working the crowd and enjoying a good chat with the customers.
"We're as ready as we can be," says Ware. "Bring it on."
Warehouse Barbecue Co. is open 11 a.m.-9 p.m. Monday-Saturday.
Queck-Matzie is a freelance writer from Greenfield.