Iowa Farm Bureau, UI Athletics Department Announce Nov. 1 America Needs Farmers Game Day Activities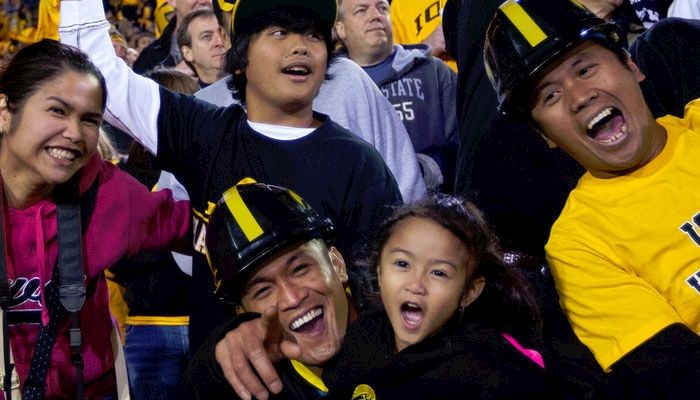 The Iowa Farm Bureau and Iowa Hawkeyes are teaming up to celebrate Iowa's farmers for the fourth annual ANF Game Day Nov. 1 when the UI football team entertains Northwestern in a college football game that will kick off at 11:00 a.m. inside historic Kinnick Stadium in Iowa City, Iowa.
As in the past, the celebration of America's – and Iowa's – farmers will begin with a long list of activities for friends and fans of the Hawkeyes inside and around the Iowa Farm Bureau's ANF Legends Tent inside Krause Family Plaza located immediately south of Kinnick. Fans will have the opportunity to meet Iowa farmers and their families, win prizes in the ANF tailgate toss and high striker games, and meet and secure autographs from a variety of former Hawkeyes including 2014 ANF Wall of Honor honoree Bruce Nelson (click here to hear from Bruce
http://bit.ly/10vmtdl
), Pat Angerer, Dallas Clark, and Allen Reisner in addition to radio voices of the Iowa Hawkeyes, Gary Dolphin and Ed Podolak. The tent will be open from 8:00 a.m. to 10:30 a.m. with the autograph session running from 8:30 a.m. – 10:00 a.m.
"The ANF program and great role models like Bruce are so important to reaching new audiences who want to understand more about how their food is grown today. Bruce has the character it takes to get the job done and embraces the hard work it takes to succeed, both on the farm and on the football field. We are so proud to have him join our team, to help share that farming perspective," said Craig Hill, president of the Iowa Farm Bureau Federation (IFBF).
"There are a lot of similarities between farming and football," Nelson said. "In football, you're in a three-point stance and your face is about two feet from the dirt all the time. In farming, you're not much further away from that. You're always working with what the environment gives you: you practice in the sun, snow, or rain. You farm in all those conditions, too. In football, there is always something new; you have new opponents and teammates. In farming, there is something new to do every day. About the time you get bored planting corn you go into side dressing or spraying."
Nelson was a first-team All-America center in 2002 when Iowa shared the Big Ten Conference championship and advanced to the 2003 FedEx Orange Bowl. He was a four-time letter winner for the Hawkeyes beginning in 1999, a period that saw Iowa advance from one victory in the 1999 season to 11 victories and a perfect 8-0 record in Big Ten play in 2002.
Nelson was a captain of that championship team and earned first-team All-Big Ten honors. He was selected by the Carolina Panthers in the second round of the 2003 NFL Draft and played professionally for two seasons before being sidelined by injury. He was Carolina's starting center in Super Bowl XXXVIII, a 32-29 loss to New England.
The ANF Wall of Honor salutes former University of Iowa football student-athletes who exemplify the tenacity, work ethic, and character of the Iowa farmer, qualities that have helped Iowa remain one of the leading agricultural states in the nation.
"The symbol ANF represents a lot to me," Nelson said. "I remember when I was a kid and Hayden Fry put it on the helmets of the Iowa football team. That was my first memory and it was special. I knew that the 80s were a tough time for farmers, especially for my dad, uncle, and grandpa. It was a time when they needed support, because there wasn't a lot of financial support going on. When that (sticker) showed up on the helmets, it was special, especially for me growing up on the farm."
ANF-theme activities inside the stadium will include a special ANF presentation by the Hawkeye Marching Band during its pregame show, the UI's second double-sided "card stunt" that will include an ANF-theme design that will be displayed during the singing of "God Bless America" by Miss Iowa, Aly Olson of Des Moines, and the on-field introduction of Nelson, who, after retirement from the NFL, returned to his hometown of Emmetsburg, Iowa to farm.
On game day, ANF Farm Strong® merchandise will be available at Herky's Locker Room locations around the stadium with a portion of the proceeds from the sale of ANF Farm Strong® merchandise going to support the Iowa Food Banks. Since the IFBF and UI teamed up for the ANF initiative, more than $70,000 has been donated to the Iowa Food Bank Association.
ANF was first launched during the Hawkeyes' 1985 Rose Bowl season by Coach Hayden Fry when the Farm Crisis of the 1980's was hitting the Heartland exceptionally hard. For more information about ANF and Game Day activities, visit
www.americaneedsfarmers.org
.