Iowa Envirothon showcases tomorrow's innovators today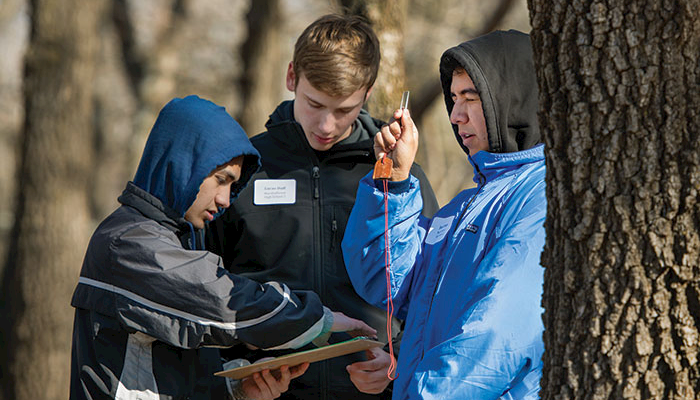 Back when I was a student, I relished the opportunity for a class field trip to leave the school campus to see something new and different. Each trip was an adventure and provided a learning experience that couldn't be replicated in the classroom. It also meant a day without quizzes, tests and homework.
Last week, students from a dozen high schools across the state gathered at Springbrook State Park in Guthrie Center for the 20
th
Annual Iowa Envirothon. The Iowa Envirothon, sponsored by the Iowa Farm Bureau since its start in 1996, isn't your average field trip. The Iowa Envirothon, put on by the Conservation Districts of Iowa (CDI), is a team competition for high school students which extensively tests their knowledge of natural resources and critical environmental issues.
For the 15 high school teams that competed this year, the Envirothon wasn't the kind of field trip I remember taking in school; this one included vigorous written tests of environmental knowledge, critical thinking, hands-on investigations, teamwork, and the always intimidating, public speaking portion, including an oral presentation in front of numerous judges. The students' hands-on investigation and team exercises were designed to answer questions from five categories: Aquatics, Forestry, Soils, Wildlife, and Current Environmental Issues. Volunteers with the Iowa Department of Natural Resources (DNR), Iowa Department of Natural Resources and Land Stewardship (IDALS), and several other organizations provided guidance to students during the competition.
In Iowa, we are blessed with naturally fertile soils which provide some of the best farmland in the world, yet challenges remain as farmers and other landowners continuously work to improve soil health and water quality while being stewards of the land. How to address and tackle environmental challenges in the state has been a focus of many committed stakeholders and is an important issue for many Iowans. Having a program that provides an opportunity for high school students to gain awareness and get involved at a young age is encouraging for our future!
It was refreshing to meet dozens of solution-seeking youth, who have a shared interest in conservation and continuous improvement of the land, and gives me a great deal of optimism for the future. The dialogue at the Envirothon was civil, forwarding thinking, and focused on collaboration, unlike the finger pointing and contentious legal battles, brought by those from
previous
generations, who could stand to learn a thing or two from these kids!
While chatting with students passing from one station to the next, I wanted to learn more about what drives them and find the source of their passion for the environment. Several students live on a farm or in rural Iowa and have an inherent passion for the land. Others excel in STEM (science, technology, engineering and math) curriculum and were encouraged by a teacher to participate in the competition.
Many students have plans to study environmental science in college and envision a future working with the land in some capacity, either as a farmer, researcher, or another hands-on ag-related profession. Regardless of what career path these students choose, the future is bright with this next generation of problem solvers.
After seeing the students embrace and excel in STEM-based curriculum and point to collaboration as the driver of continued environmental improvement, I left the State Park with a firm belief in the optimism and conviction for the future generation; these kids will play an integral role finding solutions for challenges we face. The future is bright.
By Andrew Wheeler. Andrew is public relations coordinator for the Iowa Farm Bureau Federation.