Iowa Agriculture's Greatest Hits of 2014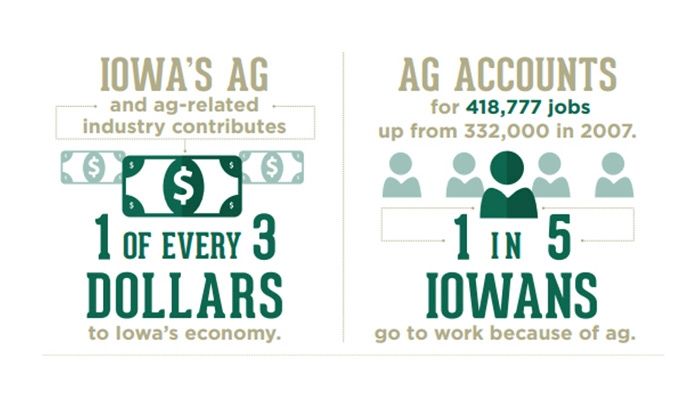 Prediction: January 1, 2015 will look a lot like December 31, 2014.
Isn't that great news?!
While some may want to wipe the slate clean this New Year, the foundation we've built here in Iowa, supported by agriculture's long-standing contributions to our economy and our communities, isn't something to throw away with our old calendars.
That's not to say Iowa has "arrived," economically, environmentally, or otherwise. Nor is it meant to be cold water for anyone who's hoping to make constructive changes. It's an acknowledgment that we are who we are, and (fortunately) that's something we can embrace!
Here's a short list of Iowa agriculture's greatest hits of 2014. Let's hope some things stay the same in 2015:
1 in 5 Iowans work because of agriculture
According to the 2014 Iowa Ag Economic Contribution Study,
one in five Iowans go to work because of agriculture (up from one in six in 2007), and ag-related industry is responsible for 33 percent of Iowa's economic output (up from 27 percent in 2007)
. Livestock farming, alone, is responsible for $31.6 billion in Iowa's economy and 122,764 jobs.
Even if agriculture isn't your thing, the diverse opportunities created by agriculture will almost certainly intersect with and/or facilitate a field that touches you, whether it's science, precision technology, manufacturing or anything related to food and renewable energy, just to name a few.
Record enrollment of and demand for ag students
It's no secret that Iowa's farm population and rural communities are aging. But you may not realize that Iowa's students are taking a renewed interest in agriculture.
For the third consecutive year,
Iowa State University's College of Agriculture and Life Sciences set an enrollment record
. And nearly half (49 percent) of the undergraduate students in the college are women, up nine percent from 2004. As a result of its booming enrollment in a high demand field, the c
ollege's career day attracted a record number of businesses and organizations this year.
In the past, I've spoken with peers who believe Iowa needs to downplay its "stale" farm image when marketing itself to young workers and their families. To the contrary; it appears the state has an opportunity to invite more young Iowans to participate in the rapidly-developing opportunities that modern farming and agriculture offer.
Growing enthusiasm for conservation
Farmers understand the urgent need to protect our soil and water quality. And while they have been working to protect the environment for years, Iowa's new
Nutrient Reduction Strategy
(a science and technology-based plan to conserve the state's soil and protect its water quality) has challenged them to take their efforts to a new level.
Farmers responded loud and clear in 2014.
Iowa farmers used at least $13 million of their own money and leveraged $9.5 million in state soil and water conservation cost-share funding to implement more than $22 million in conservation structures and practices in 2014. The $22 million figure is a recent (and likely an all-time) record.
State
and federal officials (including the
EPA
) agree that Iowa's water quality initiative is off to a great start and that we'll need more of the same gusto to keep the ball rolling in 2015.
Renewable Energy Use Grows
Iowa has led the nation in biofuel production for years
,
reducing America's need for imported oil
and
saving drivers money at the tank
.
Earlier this year, we also learned that
Iowa receives about 27 percent of its energy from wind, more than any other state
.
Like Iowa's ethanol industry, the state's wind-generating capacity didn't pop up out of nowhere. Yes, it began with a vision, but unwavering resolve in the countryside has helped get the job done.
In fact, that same dogged determination helps explain the other hits on this list as well. So, while you're busy thinking up new resolutions for the New Year, resolve to continue doing and supporting the things that make Iowa great.
By Zach Bader. Zach is Iowa Farm Bureau's Online Community Manager.