Internationally -Known Animal Welfare Expert Temple Grandin to Speak at Iowa Farm Bureau Annual Meeting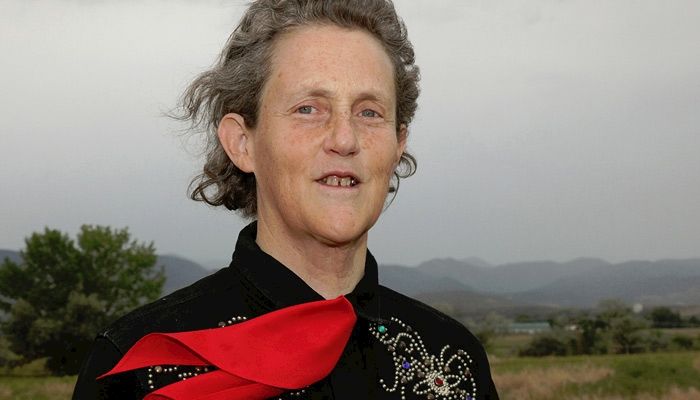 Story County Farm Bureau member Bill Couser may be a long-time cattleman and Iowa Farm Bureau member who's been recognized for the innovative methods he uses on his farm and feedlot, but he's quick to point out the mentors in his life.
Temple Grandin, an internationally-known animal welfare expert, is at the top of his list.
Grandin is recognized for her role in many aspects of today's culture; ranging from her work with animal handling systems and livestock welfare to being featured in the HBO Emmy Award-winning movie about her life and experience with autism. TIME Magazine even named her as one of the "100 Most Influential People in the World" in 2010.
Couser can't wait to hear her speak on Wednesday, Dec. 5, at the Iowa Farm Bureau Federation's (IFBF) 94th annual meeting at the Community Choice Credit Union Convention Center (formerly known as Veteran's Auditorium). Grandin will talk about the need for greater transparency in the livestock industry and how to reach out to a growing non-farming audience.
"When I first met her 25 years ago, I was absolutely connected to her messages about low-stress handling of livestock and I took that information to my farm," said Couser. "On my farm, we incorporated her approaches such as quiet areas, avoiding corners when moving animals and not using pain-inducing tools such as shock-inducing sticks called hot shots. It's all about embracing methods that secure the health, comfort and safety of our livestock."
Grandin disagrees with animal rights activists who want to abolish the use of animals for food. Today, her low-stress animal welfare guidelines and systems, which include curved chutes and strict protocol regarding animal stunning and slaughter, are standard among many U.S. meat-packing plants. She works with a number of international retailers including McDonald's, Wendy's, Burger King and is active with the Center for Food Integrity's Animal Care Review Panel.
"All of us cattlemen and livestock farmers are her students. I'm excited to have someone who's had such a profound impact on our industry come and share her knowledge with us and appreciate Farm Bureau bringing her here," said Couser. "When you hear her speak for the first time, you take a step back. She is very frank in her opinions. She tells it like it is. Her delivery is unconventional, refreshing and her message is important for all farmers to hear."
To see the agenda for the IFBF two-day annual meeting, visit
www.iowafarmbureau.com
and click on the rotating link regarding the event. Farm Bureau members can register through their local county Farm Bureau offices.
Written by Heather Lilienthal
Heather is a communications specialist with the Iowa Farm Bureau.